​Firefighters urge people to stay warm responsibly as temperatures plummet
We are urging the public to make sure they stay warm safely as temperatures across Staffordshire plummet.
Freezing conditions are expected over the next few days and could potentially lead to an increase in accidental fires and incidents around frozen water.
The Met Office has forecast the potential for snow in some areas of the region across today (Tuesday 17 January) and tomorrow (Wednesday 18 January) – particularly in the Moorlands and the north.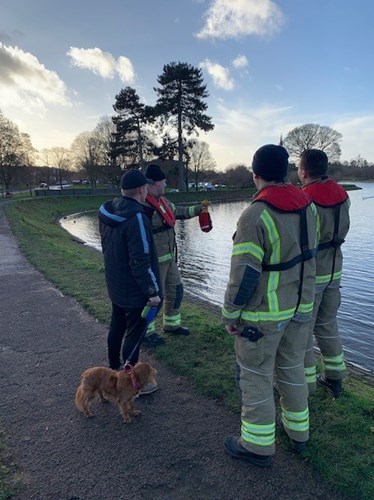 Last month, our firefighters came across a diesel heater which was being used to heat a home in Stoke-on-Trent.
Such heaters are typically used to warm-up caravans and small mobile homes, but with more people looking to find efficient energy saving methods, firefighters fear that the public may be putting themselves at an increased risk of falling victim to accidental fires.
We have also received other reports across Staffordshire involving people bringing camping stoves and heating equipment indoors in a bid to stay warm, only to increase the risk of potential carbon monoxide poisoning and a house fire. Other people have also been making their own log burners in makeshift fireplaces and bringing BBQs indoors for extra warmth.
We are reminding people that, however tempting, such methods of heating should be avoided in order to protect yourself and loved ones from the potentially devastating impact of a house fire.
Warm spaces where you will receive a hot drink and a snack, as well as a warm place to stay during the daytime, are currently running at some our stations.
Chase Terrace Fire Station, WS7 1AQ. Every Wednesday, 12:30pm - 2:30pm
Longton Community Fire Station, ST3 1NS. Every Wednesday, 2pm - 4pm from 11 January
Lichfield Community Fire Station. WS13 6HU. Every Thursday, 1:30pm and 3pm
Burton Community Fire Station, DE14 3SU. Every Friday, 1:30pm - 3pm
Freezing temperatures also bring significant concerns around frozen water safety, where we are reminding parents, dog walkers and others to be aware of the potentially fatal dangers. 
Whether it is a river, pond, canal or reservoir – frozen water should be avoided at all costs.
If you are walking a pet that enters the water, do not go after it. Make sure you keep them on a lead at all times to stop this from happening.
If you spot anyone on or in frozen water, do not go in after them. In both instances, please contact us as soon as possible, as we have specialist equipment we can use to help get the individuals or animals out of danger.
Assistant Chief Fire Officer, Michelle Hickmott, said: "We are committed to protecting our communities and making sure the most vulnerable stay as safe as possible, and that's why we need everyone to stay warm responsibly.
"Taking a chance near frozen water is a potentially fatal mistake. Whilst the ice might look strong and safe to walk on, it can easily break and cause shock to set in should anyone fall through.
"Equally, those using different methods of heating their homes should be aware of the risks involved and ensure they take the necessary steps to mitigate the chances of falling victim to accidental fires.
"We strongly believe that prevention is better than cure, and we want people to make sure they stay as safe as possible during this time."
Since November (2022), we've been working hard to spread awareness around the importance of keeping warm safely with our Be Warm Be Safe campaign. To read more, visit: Don't make cuts to your fire safety this winter (staffordshirefire.gov.uk)
To read more on how to stay safe around frozen water, visit: Frozen waters (staffordshirefire.gov.uk)