Our culture is very important to us all and we utilise the principles of the Core Code of Ethics to base our behaviours on. The ethical principles have been produced specifically for Fire and Rescue Services by the National Fire Chiefs Council, the Local Government Association and the Association of Police and Crime Commissioners.
We believe the Core Code will help us serve our communities and make our Service an even better place to work. It will help everyone to display and promote good behaviours. Everyone in our Service is expected to follow the Core Code. This includes those working with, or on behalf of, Staffordshire Fire and Rescue Service.
The Core Code sets out five ethical principles, which provide a basis for promoting good behaviour and challenging inappropriate behaviour, as seen in our framework. The full Core Code of Ethics document is also available.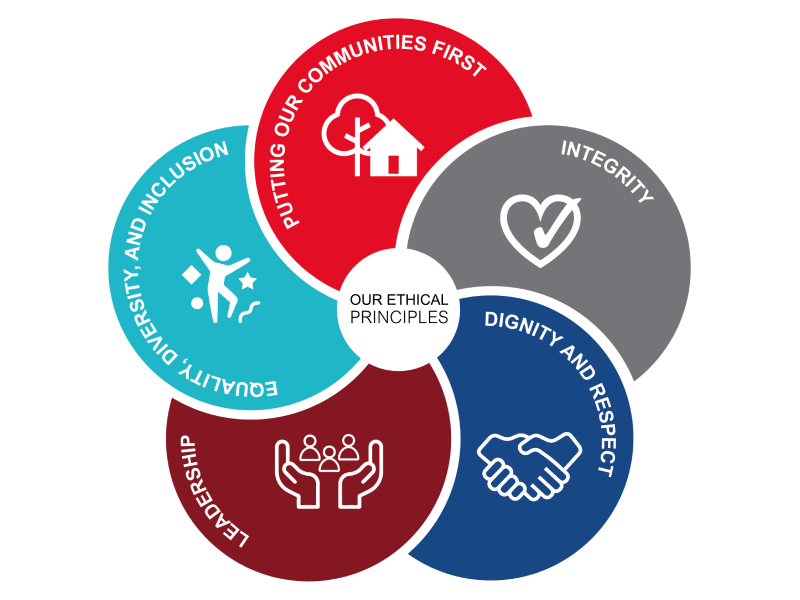 Response to HMICFRS Values and Culture Report
In response to the Values and Culture HMICFRS report which states there is bullying, harassment and discrimination in every fire and rescue service in England, we have the following position.
The report makes 35 recommendations to improve culture in fire and rescues services and we are making significant progress in meeting these recommendations. We are also following the NFCC Culture Action Plan.
We have a zero tolerance approach to any form of bullying or discrimination, which is clearly detailed in our statement of intent and is shared with all staff. We have implemented the Core Code Ethics and are in the process of embedding this into everything that we do.
Our people are at the heart of our organisation and we are committed to ensuring that each and every member of staff has a positive experience at work. We are clear that there is no place for bullying, harassment or discrimination at Staffordshire Fire and Rescue Service.