Two men commended for exceptional bravery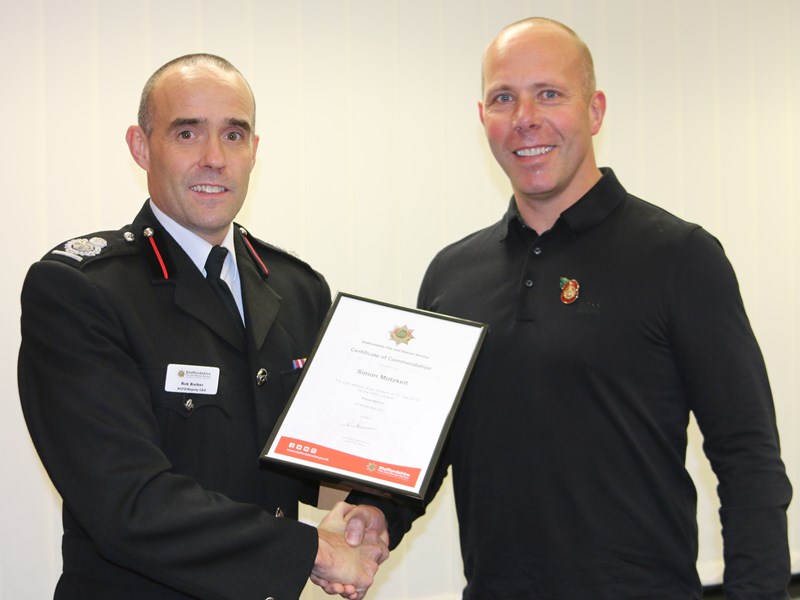 Two men have been awarded the Chief Fire Officer's Commendation Award for their exceptional bravery at an incident in July 2019.

Akam Ali, a member of the public, and Simon Motzkeit, an off-duty firefighter for West Midlands Fire Service, were present when a road traffic collision occurred on Saturday 27 July 2019.

Whilst leaving the A38 northbound, Lichfield, a camper van had collided with a streetlight and overturned.

The vehicle contained gas cylinders which are believed to have ignited, whereby the driver, his wife and two friends were trapped inside a burning vehicle.

Akam witnessed the collision whilst at a petrol station on the opposite carriageway. Without hesitation, he navigated the road on foot, sprinting across two 70mph carriageways in-order to reach the vehicle.

Simon was travelling northbound with his children when he witnessed the motorhome lose control. He immediately parked his vehicle and made across the carriageway, meeting Akam at the scene.

Despite the extreme temperatures and lack of equipment at their disposal, both men managed to remove all four occupants of the burning vehicle.

The driver of the motorhome later told how the actions of these two men have saved the lives of everyone involved.

He described the strength required to lift him from a burning vehicle as "unbelievable", and has credited the bravery and valour of these members of the public in acting so rapidly.

Crew Manager Bryan Brindley, said: "From my observation of the fire and the positioning of the vehicle following the collision, I believe both men demonstrated a great level of bravery and put themselves in a position of risk in order to save the lives of those involved.

I also believe that if not for their actions, the four occupants may not have been able to escape by themselves and may have lost their lives in such a tragic way."

Chief Fire Officer Rob Barber presented Simon with his award on Tuesday 9 November 2021 at Lichfield Community Fire Station (pictured). Akam was unable to attend.