Staffordshire Fire and Rescue Service saves £1.4m despite increase in challenges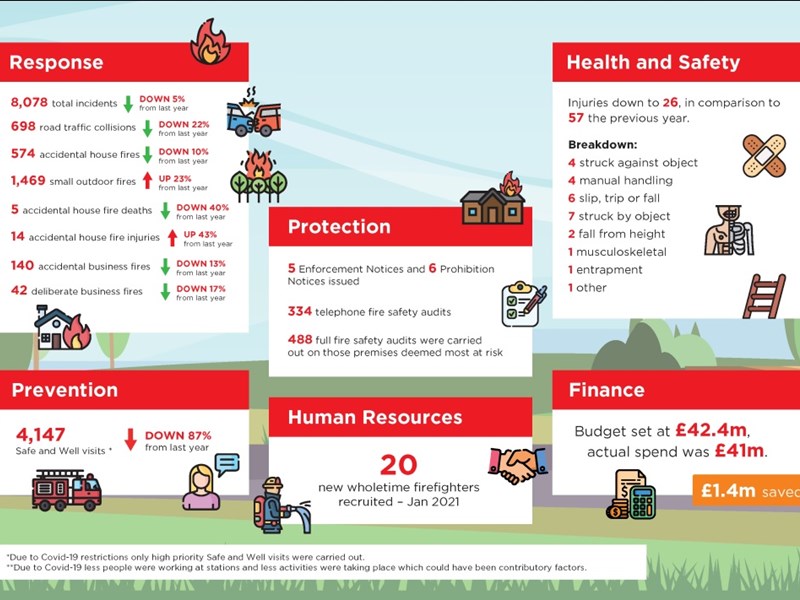 Staffordshire Fire and Rescue Service has made a saving on £1.4m since 2020 to 2021 despite an increase in the number of challenges being faced by the service in the last year.
According to its latest performance report, the service spent a total of £41m out of the £42.4m allocated while tackling unique challenges as a result of the covid-19 pandemic.
The report, which is available here highlights how the organisation rose to the challenge presented by covid-19 and helped with the local response to the crisis.

Support included the securing of food items including over 120,000 meals - which were distributed to people in need, welfare checks on vulnerable people, assisting with local surge-testing and allowing fire stations to be used as storage facilities for PPE for healthcare workers.
The report shows that road traffic collisions were down 22 per cent and accidental business fires were down 13 per cent. Accidental house fires were down 10 percent. However, injuries rose by 43 per cent. Small outdoor fires were up 23 per cent.
Director of Community Safety, Howard Watts, said: "We're proud of the significant savings made during the past year, and although staff have worked hard to identify efficiencies it is also due to a massive reduction in the number of Safe and Well visits that we were able to carry out during the pandemic.
"Since restrictions have eased our usual programme of Safe and Well visits has resumed and we have been working hard to get into as many vulnerable people's homes as possible to help them stay safe from fire.
"The numbers and types of incidents firefighters attended were reflective of the year during covid, with road traffic collisions and business fires unsurprisingly down, but injuries in house fires and outdoor fires up. This was to be expected with more people being either at home or spending time outside during the pandemic year."
The report also highlights some of the most difficult incidents crews have dealt with and some of the achievements made during 2020/21. These include:
Storm Christoph – which saw fire fighters sent to 14 flooding incidents in less than 10 hours
Grassland fires – 50 fire fighters tackled a blaze on Wetley Moor Common, which destroyed a total of nine acres of moorland. Then 85 fire fighters tackled a large fire in the Mere Valley area of Cannock Chase
Vulnerability - Fire fighters worked with a local charity to help distribute 700 oil-filled heaters across the county to ensure people were kept warm
Flat fires - Crews safely evacuated residents from 32 flats in Lichfield following a fire
Community outreach - eight young people were able to complete their Prince's Trust programmes at Stafford Fire Station and the Welephant children's fire safety club welcomed an impressive 1,649 new members aged four to eight years old.
Chief Fire Officer, Rob Barber, said: "It has been clearly a very challenging year for the whole nation as we have faced all of the significant business-as-usual events, at the same time as dealing with the impacts of a global pandemic.
"It is clear to see that our personnel are able to quickly adapt to changing circumstances in order to improve the safety of our communities.
"I would like to take this opportunity to thank each and every one of them for their significant efforts in keeping Staffordshire and Stoke on Trent as safe as possible."
To find out more about the service, visit: What we do | Staffordshire Fire & Rescue Service.