Staffordshire emergency services pay tribute to Queen Elizabeth II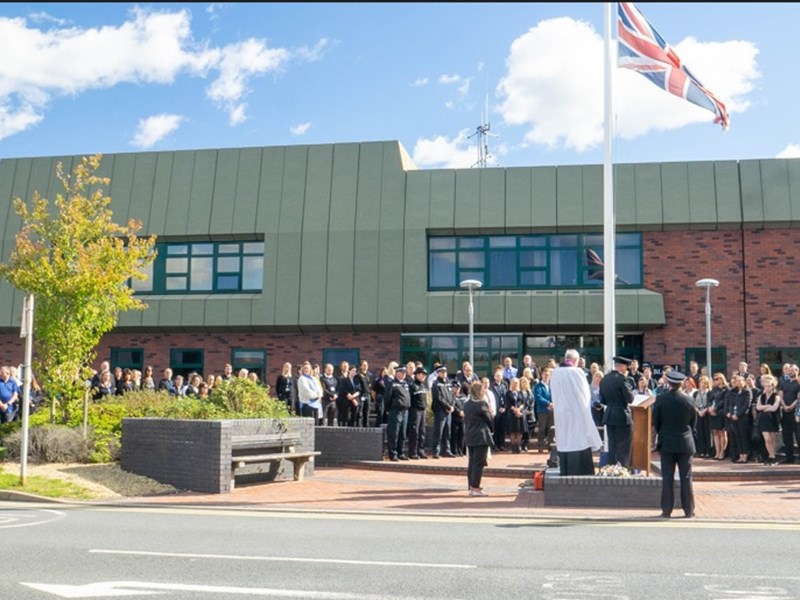 Staffordshire emergency services pay tribute to Queen Elizabeth II
The Chief Fire Officer of Staffordshire Fire and Rescue Service and the Chief Constable of Staffordshire Police have paid tribute to the late Queen Elizabeth II in a service of reflection.
The service, which took place at the force's headquarters in Stafford, from 12 noon on Friday 16 September, was opened by Staffordshire Police's Chaplain, Revd Steve Parker.
The event was held close to the force's flag pole, where the Union flag currently flies at half-mast, as a mark of respect. It gave both organisations the opportunity to reflect on the service of the late Queen Elizabeth II and to express their gratitude for her dutiful leadership.
The national anthem was played following the service in order to welcome and acknowledge the accession of King Charles III.
It comes as the Chief Fire Officer and the Chief Constable recently pledged their allegiance to the King in accordance with the oath they took at their attestation.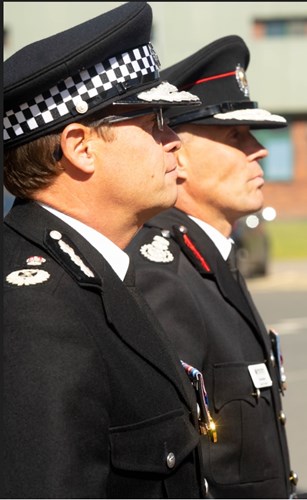 Chief Fire Officer, Rob Barber, said: "It was with profound sorrow that we learned of the death of Her Majesty Queen Elizabeth II, who had made such a significant contribution to this country and our communities in Staffordshire. We continue to mourn the loss of a dedicated public servant."
Chief Constable, Chris Noble, said: "We offer our solemn and sincere condolences to the Royal Family and continue to pay tribute to Her Majesty Queen Elizabeth II, as we reflect on her life and achievements during this national period of mourning."
The latest service follows a number of events being held across the county to celebrate the life and contribution of Her Majesty.
All Union flags across the force and service area will continue to fly at half-mast during the mourning period, which is due to cease on 20 September, following the Queen's funeral on 19 September 2022.