Senior fire officers call for community help in stamping out bonfires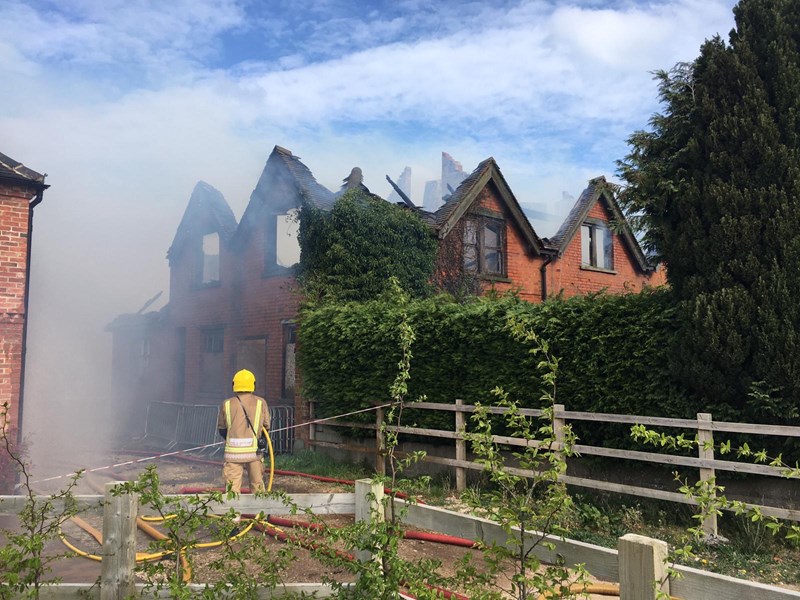 Staffordshire Fire and Rescue is calling on people to stop igniting bonfires and burning rubbish in their gardens during the current Covid-19 lockdown.
The service is urging communities to be sensible when dispensing of garden waste at home by using the council services on offer and not resort to burning them.
The call comes as our fire crews have attended a rising number of related incidents in the past month – with a 77% increase in the number of bonfires in which we've been called out on – including a large fire at a derelict barnhouse on Burton Road in Needwood last week (17 April).
Choosing to start a bonfire could put lives at risk so please don't start them.
A total of 45 firefighters from Tutbury, Cheadle, Barton-under-Needwood, Uttoxeter, Lichfield, Stone, Burton-on-Trent and Chase Terrace dealt with the blaze after the roof caught alight, with an investigation finding it to have been caused by embers blown from a nearby bonfire.
Deputy Fire Chief Rob Barber said the communities need to do their bit: "We've had a number of bonfire related incidents over the past weeks that have added extra pressure onto us during, what is already, a difficult period.
"Fire can spread very quickly and we have seen recent examples where fires have started and spread to houses and buildings as a direct result of people burning their garden waste.
"We're working tirelessly with all local partners to meet the challenges brought to us by the Covid-19 lockdown and to reduce the demand on our fabulous NHS. This work isn't helped by these types of incidents with people potentially creating an added burden to our hospitals should they attempt on tackling these blazes themselves.
"We understand that Covid-19 is having a huge impact on people's daily lives and while it's great that people are staying at home to help save lives, choosing to start a bonfire could also put lives at risk so please don't start them and use the services provided when disposing of any waste."
The majority of local councils are still carrying out a full waste collection service – with others set to return to full collections in the coming days. Please check your local council website for any additional information.