Prince's Trust students' contributions published in period poverty book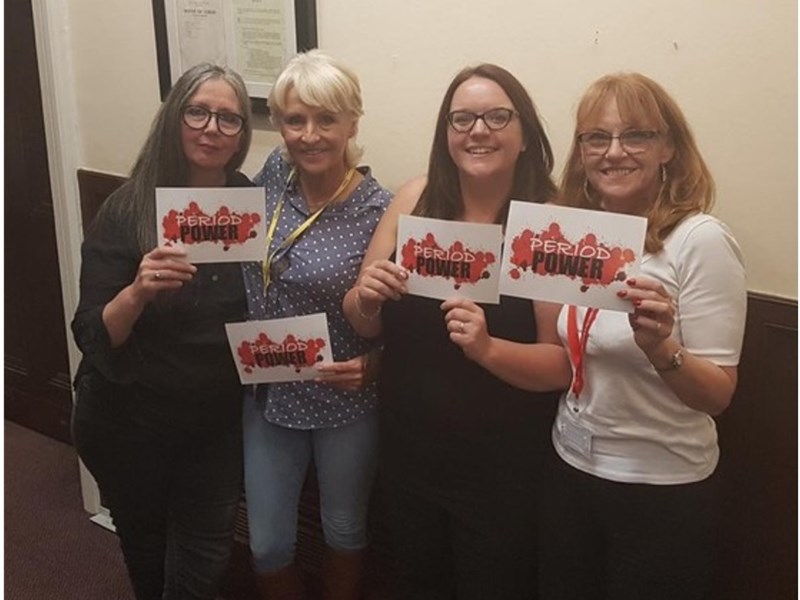 Prince's Trust students' contributions published in period poverty book
Two Prince's Trust students working with Staffordshire Fire and Rescue Service are celebrating after their contributions were published in a book aimed at raising awareness of period poverty.
Imogen, aged 16, and Kat, aged 20, joined the service's 'Explore' course in Rugeley in April this year as part of the Prince's Trust programme, aimed at improving young adult education and employability skills.
Part of this programme involves learning about health and welfare, which inspired Sharron Finch, programme instructor lead, to get in touch with local charity Period Power. 
The Fire and Rescue Service, the first in the country to be awarded 'Period Dignity in the Workplace' status as a result of having sanitary products in all staff and community bathrooms across the estate, has been supported by the local Period Power charity since March 2020.
Diane Dunlevey, the service's equality, diversity and inclusion manager, was so inspired by the work of the charity that she worked to ensure the period products were put in place in community fire stations before the covid-19 pandemic.
Then, when lockdowns began and fire stations had to close, Diane worked to get period products out to local foodbanks in order to supply women and families in need.
"This is the context from which I decided to contact Period Power to see if our young programme attendees could contribute to the book they were putting together the experience of 'All Things Periods'," Sharron said.
Imogen's contribution, a poem called 'All Who Bleed' was selected for inclusion along with Kat's exploration of how her period makes her feel.
Sharron said: "It was so amazing to see how the girls were so proud and confident to talk about their experiences.
"The programme is all about building confidence and resilience, and the fact that the girls were able to show how they'd developed while also helping the fire service keep up its commitment to helping to eradicate period poverty, is truly special."
The book, entitled 'All Things Periods' was launched at a special event on Monday (13 December) where the contributors met with the charity representatives and were inspired to consider further period poverty ambassador roles in the region.
Linda Allbutt, of the charity, said: "The contributions of the girls were exactly what we needed.
"They were so well thought out and really captured the experiences of young people going through their cycles and we were so pleased to include them in the book."
Now the charity hopes to continue to work with the fire service to run workshops and engagement events with the Prince's Trust, once possible during the pandemic.
"The publication of the contributions in the book further show how the Fire and Rescue Service is working to continue to be an inclusive organisation, with the legacy of this project to be felt by women across the service, and the community we serve, for many years to come," Diane added.
The service is now working to provide specialised period pants to operational women fire fighters to complement their personal protective equipment if they choose to access them.
"We want everyone who works for the service and visits our premises, to feel valued, respected and know that their basic hygiene and wellbeing needs are met," Diane said. 
"Ultimately, no one deserves to experience period poverty, whether you're a fire fighter out on a job, a young person in a classroom or someone out in the community struggling to make ends meet.
"Staffordshire Fire and Rescue Service is here to support you."
To find out more about diversity and inclusion in the fire service, visit: Equality & diversity | Staffordshire Fire and Rescue Service.
For more information on The Prince's Trust programmes, see: Prince's Trust (staffordshirefire.gov.uk)
For information on charity Period Power and their latest book, visit: http://www.periodpower.co.uk/.