On-call firefighter celebrated for 40-years' service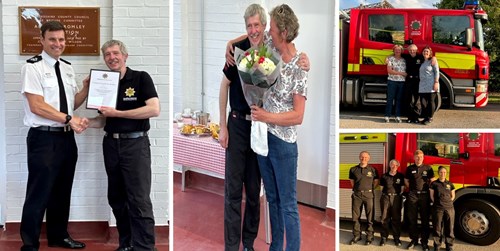 An on-call firefighter who has been serving communities in Staffordshire for more than 40 years has been celebrated.
Simon Wilson, 58, from Abbotts Bromley, has been an on-call firefighter with us for the last four decades and shows no sign of slowing down anytime soon.
He first walked through the doors of Abbots Bromley Fire Station back in June 1983 and has since gained promotion to become the station's on-call Crew Manager.
On Tuesday (20 June), he was joined by his colleagues and family at a special ceremony at the same station he first started in dedication of his exemplary service and commitment to local communities. 
He first started after being inspired by his brother, a former firefighter, and has worked in Abbots Bromley throughout his entire career.
He said: "When I first walked through the doors of Abbots Bromley Fire Station, I never thought I'd last 40 minutes, let alone 40 years. It has been such a rewarding and fulfilling career that has given me an opportunity to serve the local community.
"Working for Staffordshire Fire and Rescue Service has allowed me to meet and work with so many wonderful people who go above and beyond to make a difference to our communities and support those most vulnerable when they're often in the most difficult moments of their lives.
"And to be thanked for your life-saving actions by those who have been in those difficult moments, I'm truly grateful.
"All of my colleagues at the fire service are inspirational. I'd like to thank everyone who I've been fortunate to work alongside both in the service and across our partners. Your support has made my time in the service one I will always treasure."
Deputy Chief Fire Officer, Glynn Luznyj, who was at the presentation, said: "We would like to say massive congratulations to Simon on his exemplary service. A big thank you on behalf of the communities of Staffordshire for the support he has provided to many of his colleagues and local residents over that time.
"We would also like to thank Simon's immediate family for their support in his endeavours as a firefighter for 40 years."
For anyone who is considering joining the fire service as on on-call firefighter, Simon added: "It's a commitment, but give it a go and embrace it. I've been to a lot of places I'd never have gone and have got the opportunity to engage with a number of different communities in Staffordshire.
"Being a firefighter broadens your horizons. So do it, embrace it, and you could still be here in 40 years' time doing it."
On-call firefighters provide emergency cover from their home or work base, responding to emergencies within approximately five minutes of their alerter going off. Our on-call firefighters provide approximately 50 hours each week 'on-call' cover to their local fire station.
For more information on becoming an on-call firefighter, visit our website: On-call firefighter recruitment (staffordshirefire.gov.uk)