Newest recruits parade their way into service with ceremony at Fire HQ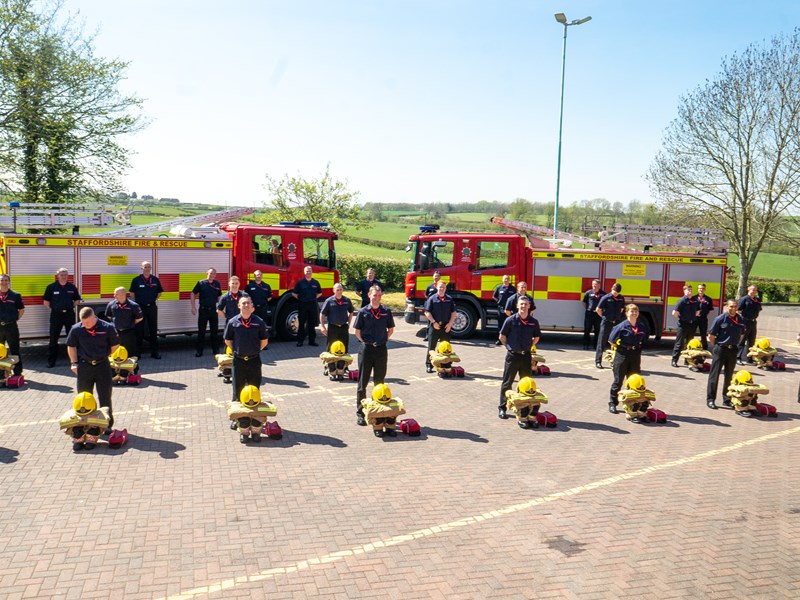 Staffordshire Fire and Rescue Service welcomed its newest cohort of operational firefighter apprentices in a sun-kissed ceremony at their HQ near Stone.
The recruits gathered in a socially distanced manner on the parade ground to celebrate the conclusion of their hard work and 13 weeks of training, and were dismissed to their duties by Chief Fire Officer Becci Bryant in what will likely be her last occasion doing so before retiring this autumn.
On this occasion 18 recruits paraded before the service's top officers to pass out. They will then be joined by two on-call firefighters who have already completed their competency training to make the cohort up to 20 full-time firefighters. All 20 will undertake their final assessment in the next two-and-a-half years, and will continue to develop their knowledge, skills and experience on the job.
Today's event marks an incredible milestone in the career of these new firefighters and is a significant day for Staffordshire Fire and Rescue Service.
During their training the operational firefighter apprentices covered many aspects of the prevention and operational work they will perform in their role. They covered prevent training, preparing them for the important work they will do in local communities when completing Safe and Well visits, community engagement and safety talks in schools. Their operational skills include the use of breathing apparatus to work as part of a team in smoke-logged buildings, the use of pumping appliances and ladders at fire locations, Positive Pressure Ventilation to clear smoke logging, hydraulic cutting equipment to free people trapped in vehicles after road traffic collisions and specialist water rescue training.
On Monday at the service's HQ off the A34 at Aston-by-Stone, the 18 operational fire apprentices gathered at 1pm to parade for the Learning and Development Team.
They then paraded, led by Group Manager and Head of Learning and Development Simon Craythorn, at 2pm for the service's leadership – Becci as well as Deputy Chief Fire Officer Rob Barber and Director of Response Glynn Luznyj.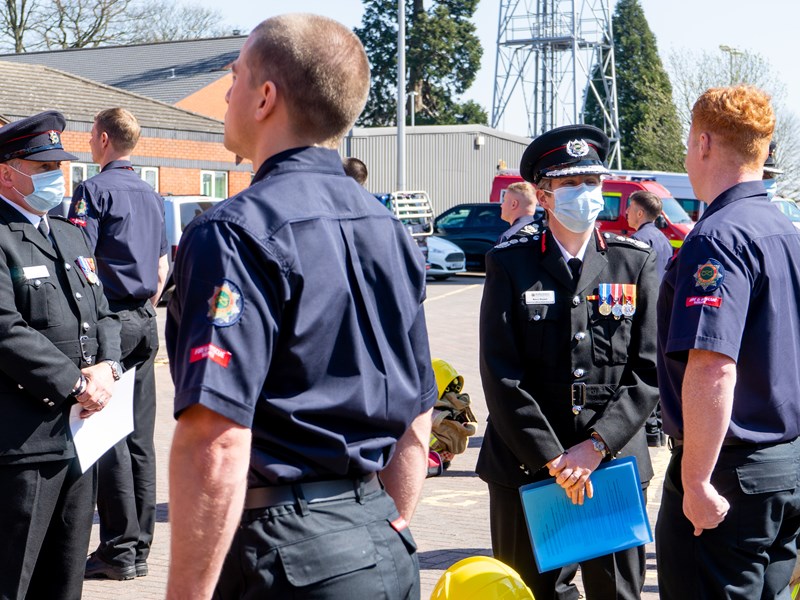 Becci then spoke to them all individually as they were presented by Lee Chevin, Station Manager for Learning & Development.
A presentation was then held for the recruits at 2.45pm which would normally be attended by friends and family. But due to the ongoing coronavirus pandemic this was held in a Covid-safe and socially distanced manner and was filmed. The video of the event will be shared with relatives at a later date.
Simon said: "This ceremony marked the end of the first of two whole-time trainee courses planned for this year.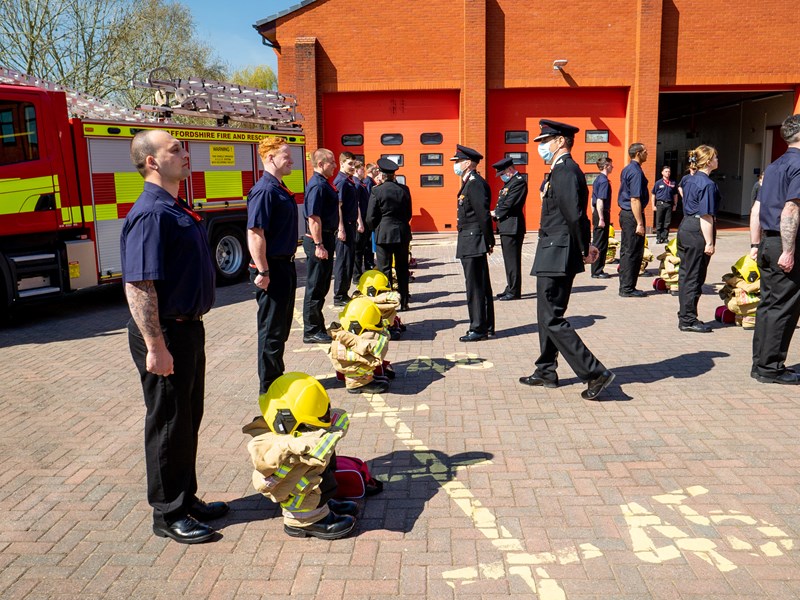 "It should not go unrecognised the challenges faced by all prior to and throughout the last 13 weeks to ensure we got to this point. I have seen the way in which the course has grown into the role, the ways they have worked to develop teamwork and leadership skills and the way in which they have grown to focus on the safety and wellbeing of each other and the communities they are about to serve."
Becci added: "Today's event marks an incredible milestone in the career of these new firefighters and is a significant day for Staffordshire Fire and Rescue Service.
"To be here today having undertaken an intensive training programme is a fantastic accomplishment. The course has presented a range of challenges to all of the recruits at various times over the last 13 weeks, least of all the requirement to undertake assessments in both theory and practical. Not only have they successfully passed all of these assessments they have also needed to do it all in a Covid-19-safe environment - an incredible achievement – I'm extremely proud of each and every one of them."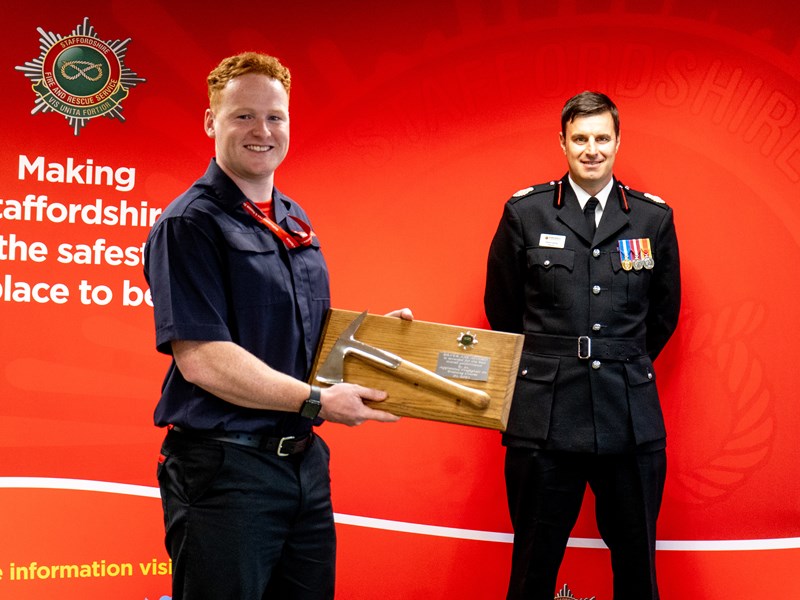 The course awards were also handed out during the ceremony.
The recipients of the Breathing Apparatus Award were Thomas Wilson and Daniel Jones, the Recuse Award went to Richard Medway and Sam Hughes, while the prestigious Silver Axe Award was awarded to both Richard Metcalf and Daniel Martin.
The Silver Axe Award goes to the recruit or recruits who have shown self-discipline, motivation and leadership qualities, and for demonstrating an exceptional attitude to learning.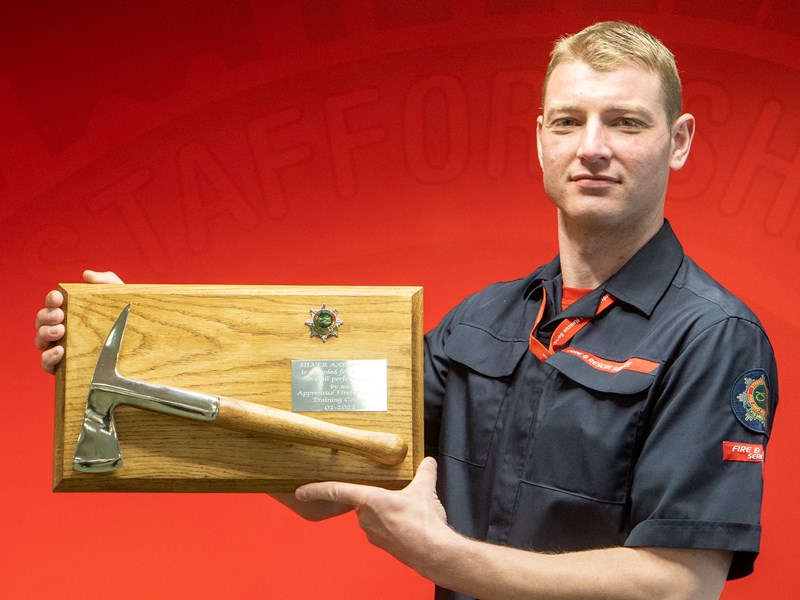 Daniel said of his achievement: "It's a great privilege to have won this award. I could not have won it, though, without all the help, support and the dedication I have received from the training staff.
"And also, from the rest of the trainee group. It's been a team effort, it's not been individual. So I have to give credit to the rest of the team as well because, without them, I wouldn't have been able to win this."
And fellow newcomer Holly Copestake was proud to have gotten through the 13 weeks of training, paying homage to those who helped the recruits along the way. She said: "The past 13 weeks of training have been a fantastic experience.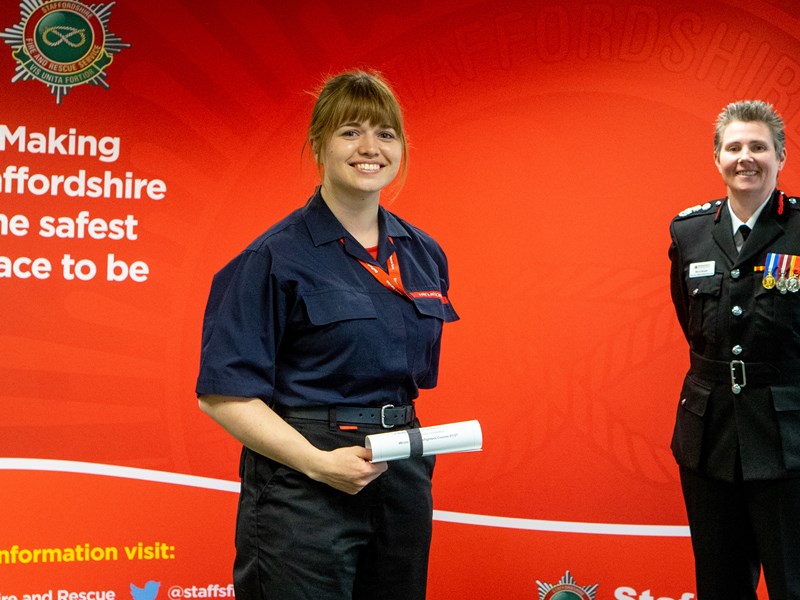 "We've all learnt a great deal very quickly. I credit this to the enthusiasm and experience of the trainers, and having a strong group of trainees who are eager to ask questions, challenge and support each other."
Two of the recruits will now be stationed at Cannock - Richard Medway and Samuel Knight. Samuel Leigh and Joshua Salmon will join Hanley. Three will be posted at Leek - Robert Kearney, Nathan McGowan and Thomas Wilson. Sandyford will gain Daniel Jones, while Richard Metcalf and Liam Ensor will join crews at Lichfield.
Longton will see both Adam Preece and Maciej Drywa posted there, while both Newcastle and Tamworth will be joined by four recruits. Newcastle will gain Danny Parcell, Ben Buckton, Daniel Martin and Mark Williams, while Holly Copestake, Luke Harrison, Sam Hughes and Matthew Gainer will be posted at Tamworth.