Living Alone campaign launches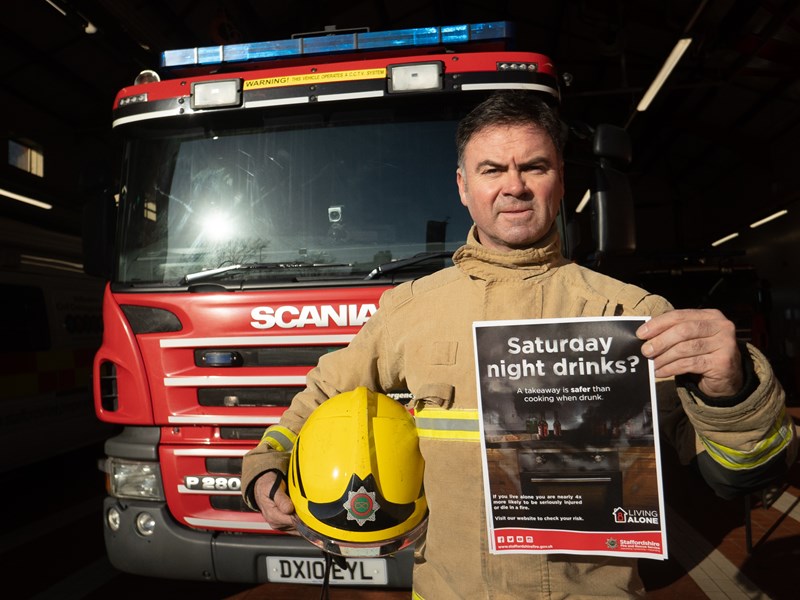 People who live alone are nearly 4 times more likely to die or be seriously injured in a fire, is the stark message from Staffordshire Fire and Rescue Service as it launches its latest campaign.

The Service is targeting people who live alone with a series of campaigns for the next year in an attempt to reduce the number of incidents involving them. In the past five years alone there have been 741 accidental house fires in properties where the occupier lived alone and was aged 45 plus. Sadly, 13 of these fires proved fatal.

The first of the campaigns, which launches this week, is focused on cooking safety after figures revealed that a massive 72 per cent of accidental house fires involving people who lived alone, started in the kitchen.

Director of Community Safety for Staffordshire Fire and Rescue Service, Howard Watts said: "Sadly the facts speak for themselves – people who live alone are more likely to be victims of fire. We think that this could be because people who live alone don't have that second pair of eyes. That other person who would perhaps remind them that their tea is in the oven or wake them up if they fall asleep whilst their dinner is cooking.

"We'd urge people who live alone to think about their routines at home and if they can make some small changes that will keep them safer. Such as ensuring grill pans are clean, avoiding cooking when drunk and probably the most important thing which is to stay in the kitchen when you are cooking on the hob, or use a timer if you pop something in the oven.

"We expect there are a lot of people out there who might not live alone but may be close to someone who is, maybe a parent, grandparent or neighbour. We'd urge these people to play their part too by having a chat with the individual about their fire safety and checking they have working smoke alarms."

Posters promoting the campaign will be circulated to groups and venues across the county. Firefighters will be delivering posters to pubs and social clubs as people who cook after drinking alcohol is a particular issue. Statistics show that 60 per cent of serious and fatal accidental fires involving people aged 45-64 involved people under the influence of drugs or alcohol.

To check your risk or that of someone you know visit Staffordshire Fire and Rescue Service's website www.staffordshirefire.gov.uk and click on the Living Alone link.