Helen realises childhood dream with fire service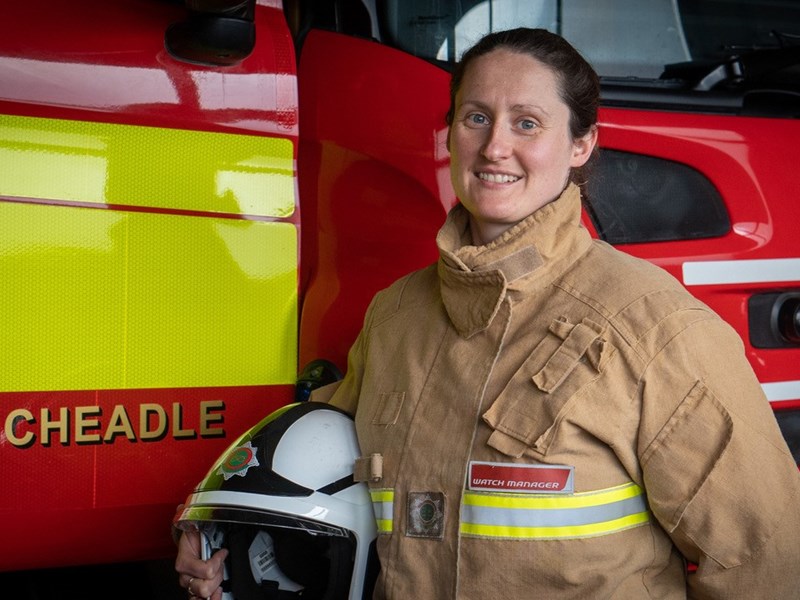 To celebrate International Women's Day on Monday, March 8, we have put the focus on a resource manager at Staffordshire Fire and Rescue Service - who is also an on-call firefighter.
Catholic College pupil said: "When I was at school the careers advisor asked what I wanted to do and it was always the fire service. I just wanted a career where I was giving something back to the community and helping others".
"I had started a degree in sports science when I saw that Lincolnshire was recruiting firefighters. It was a little different back then as you had to apply for a registration pack and these were very limited. At the time there was no indication that Staffordshire was planning a recruitment drive so I made the bold decision to apply further afield. There were a lot of applicants but my preparations helped me to secure one of only three positions "
I just wanted a career where I was giving something back to the community and helping others
Helen wasn't fazed by moving across the country to follow her dream and after leaving Cheadle she went on to be based in Skegness.
The following year Staffordshire's recruitment opened and Helen was soon heading back to her home county after successfully applying to join. She said: "I was pleased to be posted straight to Newcastle Fire Station and finished my development with Staffordshire.
"To date my career in Staffordshire Fire and Rescue has given me some great opportunities. I have been fortunate to have had the chance to work at most of our wholetime stations serving a wide range of our communities. I have been trained to operate specialist appliances and have worked to develop our future firefighters both wholetime and on-call."
Helen stayed at Newcastle until 2013 before landing a temporary crew manager position at Stafford before taking on the same position in Tamworth. However in 2015, Helen accepted a permanent crew manager position in Leek where she went on to become temporary watch manager. More temporary watch manager roles followed at Sandyford, Longton and Stafford. It was at Stafford where she was made permanent watch manager in 2019.
In January this year Helen became the resource manager for the service. She said: "I get to liaise with a lot of different departments. The whole service works hard to ensure that both wholetime and on-call fire appliances are available to respond to emergencies across the county and I am excited to be a part of that process. I am looking forward to developing this relatively new role."
SFRS is recruiting on-call firefighters in many areas. For more information visit our on-call firefighters page.
To celebrate International Women's Day, Staffordshire Fire and Rescue Service is not only highlighting the amazing achievements of the women in its service, but we have also partnered with Little Bird founder and motivational speaker, Alison Delaney. Alison has donated 200 copies of her children's book which will be distributed to communities across the county. Staff at SFRS also took part in a workshop discussing the importance of making a difference and how happiness can influence this and this is available to view on the Staffordshire Fire and Rescue Service YouTube channel @StaffsFire.