Former on-call firefighter who fulfilled childhood dream urges more to consider joining the service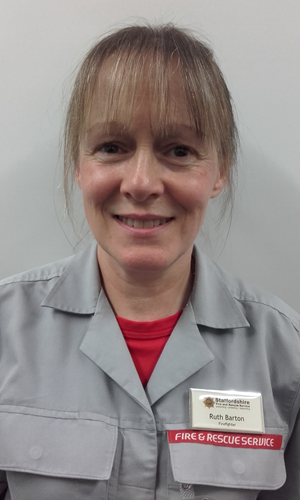 A former on-call firefighter who fulfilled a childhood dream is encouraging people in Staffordshire to consider joining the fire service.
Ruth Barton enjoyed a career spanning more than 20-years since joining us back in March 2003 and has helped to protect those in need across a number of serious incidents over the decades. 
As a child, she always wanted to make a difference to local communities and was able to realise this dream by joining us as an on-call firefighter and becoming one of the first female officers on the books at Tutbury Fire Station.
She said: "Knowing that you're helping communities is something which gives you such a big sense of satisfaction.
"It's a job where your workplace could be anything from a raging river or a factory in flames, having to deal with extreme heights, searing heat or ice-cold floodwater.
"I wasn't a fan of incidents that got me up from my sleep but sometimes it had to be done, getting up, dressed and to the station within five minutes and ready for anything. Each day was so different.
"Being an on-call firefighter requires you to be very organised with your time, able to constantly plan ahead, be reliable and conscientious, have good spatial awareness and be team spirited.
"For many years, I was on-call for 84 hours a week and I loved it. I even added in more hours whenever I was free. The pride you get from making a difference is something which is so rewarding."
Now, after retiring from firefighting last month, Ruth is encouraging more people to consider the line of work.
She added: "Handing in my notice and hanging up my boots was the hardest decision I've ever had to make. I miss being a firefighter, especially the driving, but we can't do everything forever.
"There may be times where you need to be able to think outside the box. You might have a plan, but in an instant, that plan may have to change so you need to be able to adapt.
"You need to be quick thinking, alert and always ready for action with a keenness and enthusiasm to do the job whether it's a drill or for real.  
"I've had the privilege of working with so many lovely colleagues at Staffordshire Fire and Rescue Service over the years.
"I would like to take this opportunity to say a massive thank you to the service for making my childhood ambition come true, and thank you to everyone who helped me over the years and all my colleagues past and present at Tutbury Fire Station."
On-call firefighters provide emergency cover from their home or work base, responding to emergencies within approximately five minutes of their alerter going off. Our on-call firefighters provide approximately 50 hours each week 'on-call' cover to their local fire station.
 If you're keen to learn more about being an on-call firefighter, there are still a couple of taster sessions left for you to attend.
Saturday 27 May, Ipstones Community Fire Station, 11am – 2pm
Saturday 3 June, Abbots Bromley Community Fire Station, 11am – 2pm
To register your interest or to find out more visit: On-call firefighter recruitment (staffordshirefire.gov.uk)