Former Lioness encourages communities to consider career at fire service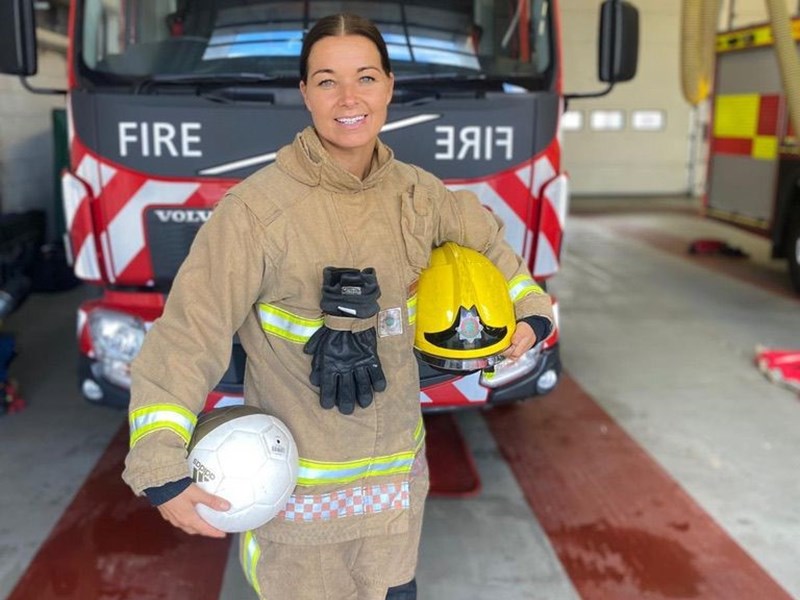 One of our own former Lionesses is encouraging the local community to consider joining the fire service.
Firefighter Rachel Unitt enjoyed two World Cup spells as a left-back in the England Women's Team before hanging up her boots and taking to the fire service in 2017.
Now a firefighter based in Hanley, the 41-year-old retired having been crowned England's International Player of the Year in 2004 and representing her country on 102 occasions.
She appeared at two World Cups for the Lionesses, who yesterday (7 August) advanced into the quarter-finals of the World Cup after beating Nigeria in a penalty shootout.
Rachel said: "The Lionesses winning the European Championship last year shows the progression of the women's game in this country and what can be achieved.
"There is plenty of talent and skill in the squad and there is no reason why they can't go all the way and bring home more silverware from the World Cup."
"I thoroughly enjoyed my time playing with so many talented footballers, but now my life is very different and I've been able to work with so many wonderful people who go above and beyond to make a difference to local communities.
"All of my colleagues at the fire service are inspirational and I'm fortunate to work alongside so many committed and dedicated colleagues and local partners who are committed to protecting the vulnerable and helping those in need.
"If you're thinking of a career in the fire service or you want to make a difference in your local community, I would always say to do it!
"You'll love it and the sense of satisfaction you'll get will be second-to-none. It's a fantastic family environment, there's a lot of support and help and so many opportunities for people to learn new skills. It's a truly tremendous job – one for a lifetime."
To find out more about career opportunities in Staffordshire Fire and Rescue Service, visit:  Careers | Staffordshire Fire and Rescue Service