Former firefighter who raised over £500k for charity wins heroes' award
A former firefighter has been presented with the 2022 Uniformed Heroes award for his exceptional service to local communities.
Sixty-six-year-old Kelvin Chell was nominated for the award by Chief Fire Officer Rob Barber after completing an incredible 50-year career last month, which saw him raise over £500,000 for various charities and organisations across the region.
He was invited to attend an awards ceremony last night (Thursday 6 October) in Stoke-on-Trent and was presented with the award after a panel of judges recognised his exemplary efforts.
Kelvin said: "I'm tremendously honoured to have received this award.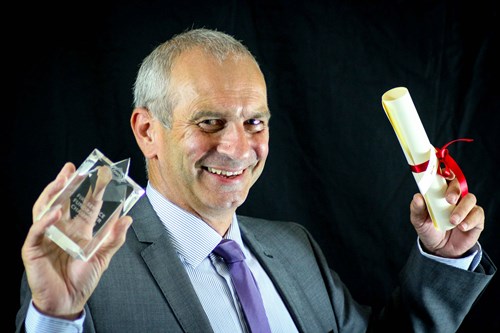 "You certainly don't do these sorts of things for any recognition or personal gain, but it's very touching to see so many people come together and make this award possible."
"Throughout my entire career, my colleagues have always supported me in various ways to help raise money and awareness for good causes across Staffordshire and serve the local community."
He first joined the Service in September 1972 and quickly ascended the ranks, where he became a Crew and Watch Manager across various stations in Longton, Burslem and Newcastle-under-Lyme.
Throughout his career, which spanned five decades, Kelvin has raised over half-a-million pounds for causes like Air Ambulance, Royal British Legion, Sneyd Green Primary School, Dougie Mac Hospice, Donna Louise, MACCAS project (mental health in the young), the Royal Stoke University Hospital cancer ward, Cardiac Risk in the Young and various others.
Even in retirement, he's still looking for ways to contribute to these causes.
Kelvin and his former colleagues are still selling specially-designed poppies in the local area. They are using local shops and museums in Hanley and Newcastle to advertise a range of designs – including a RW388 Spitfire, which is the one currently housed in The Potteries Museum (pictured below).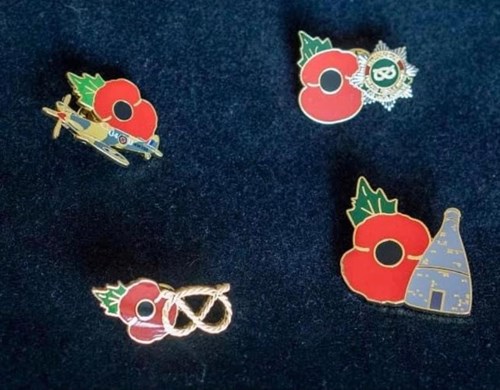 Any of these four poppies can be purchased for £3.50, with all proceeds being donated to The Royal British Legion.
Kelvin is also encouraging people to reach out digitally too. These poppies can be posted for £1 and arranged through email, either by contacting kelvin.chell@staffordshirefire.gov.uk or neil.cheshire@staffordshirefire.gov.uk
In a similar event last year, Kelvin and his colleagues raised £2,500. To read more, visit: Newcastle Community Station raise £2500 for the Royal British Legion (staffordshirefire.gov.uk)
For more information on Kelvin, visit: Fifty-years' service and over £500k raised for charity – our longest serving firefighter retires (staffordshirefire.gov.uk)