Former firefighter honoured with red plaque
A former firefighter who lost his life during the Second World War has been remembered in a dedicated service.
On Sunday (20 November), local firefighters in Hanley paid their respects to the late Edwin Booth during a special ceremony organised by the Fire Brigade's Union (FBU).
Members of Edwin's family watched on as a red plaque was unveiled at Hanley Community Fire Station. It stands to remember and honour those in service who have died protecting their communities.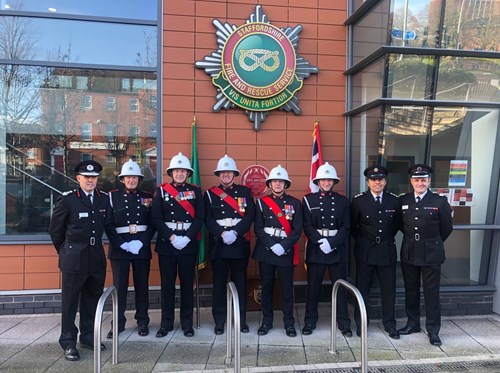 (above: Representatives from the Service and Fire Brigade's Union at the plaque unveiling).
Since 2017, the red plaque scheme has created dozens of memorials in the UK for fallen firefighters who have died in the line of duty. Each plaque is funded independently by the Firefighters 100 Lottery and is unveiled in the area most local to the fallen firefighter. It follows English Heritage's blue plaque scheme which marks the homes of influential historic and cultural figures in the UK – allowing these heroes' achievements to be celebrated and remembered into the future.
Edwin's story began in 1925 when he joined the Stoke-on-Trent City Fire Brigade as a firefighter. He served the Hanley community for 15-years and transitioned into a sub-officer in 1939, coinciding with the start of the Second World War.
Sadly, on 16 Nov 1940, Edwin passed away as a result of the Blitz bombings whilst on duty in Coventry. He was 38-years-old at the time.
Firefighters and staff from his local station in Hanley attended the ceremony to pay their respects to the local hero.
Deputy Chief Fire Officer Glynn Luznyj, who gave an address at the ceremony, said: "I'd like to pay tribute to Edwin's heroic actions during the Second World War and extend my gratitude to his family for attending the event.
"The service is so proud of its colleagues, both past and present. It was a privilege to work with the Fire Brigade's Union in honouring his brave memory in the community which he served so valiantly."
Jack Lee, Staffordshire Brigade Chair, said: "The FBU red plaque scheme is there to commemorate the bravery of firefighters who have paid the ultimate sacrifice in the line of duty.

"The permanent mounting of this FBU Red Plaque will ensure that the sacrifice that Edwin James Booth made, will never be forgotten."