Firefighters warn about the dangers of deliberate fires
Firefighters are asking parents to talk to their children about the dangers of starting fires this Easter.
As the school holidays begin and we are starting to see spells of warmer weather we are concerned about a possible increase in deliberate fires.
Our latest statistics show that 72% (3,099) of the outdoor fires we attended in the last three years (4,333) were set deliberately.
Purposely setting fire to grass, rubbish or bins can be extremely dangerous. Some young people may see it is a bit of fun, but these fires can quickly get out of hand, cause extensive harm and even put lives at risk.
Deliberate fires also take our firefighters away from responding to others incidents, cause damage that will cost money to repair, and ruin the local area by killing wildlife and plants.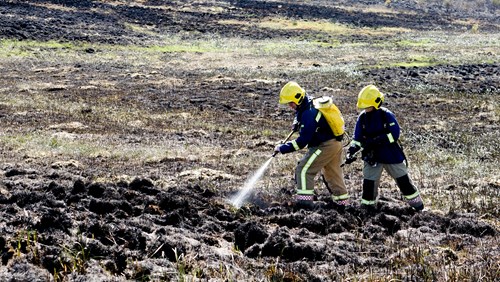 Prevent Delivery Lead, Ben Sourbutts, said: "Whilst we want young people to enjoy themselves during the Easter holidays, and we know that the vast majority of teenagers go out with their friends and do not cause any problems, we must reiterate that we have a zero-tolerance approach towards those who deliberately start fires.
"We believe parents and carers have a part to play in reducing these incidents by making sure youngsters are aware of the risks and consequences involved. Please also make sure you know where your children are, and what they are doing, when they are out and about.
"It's important to also highlight that deliberate fire setting is an offence and if someone is found to have started a fire, they could be arrested and receive a criminal record, which in turn could affect their future prospects.
"Even small outdoor fires can be dangerous, and they place additional stress on our resources – dealing with a nuisance fire affects our ability to respond to more serious incidents like house fires or road traffic collisions.
"We believe that by continuing to work together, with our communities and partner agencies, we can stamp out deliberate fires in Staffordshire."
If a fire breaks out call the Fire and Rescue Service immediately. Remember, what looks like a small grass fire at the time can quickly turn into a major incident. Please do not attempt to put the fire out yourself.
If anyone has any information about people starting fires deliberately they can report it anonymously to Crimestoppers on 0800 555 111 or online to Staffordshire Police at: Report | Staffordshire Police
For more advice please visit: Grass fire prevention (staffordshirefire.gov.uk)