Firefighters help spread Christmas cheer in joint appeal
Firefighters, police officers and local community partners have once again teamed up with Port Vale Football Club to spread the Christmas spirit this December.
The appeal, now in its second year, has provided hundreds of vulnerable people with a Christmas dinner, festive treats and donated presents thanks to the generosity of people from across Stoke-on-Trent and Staffordshire.
Firefighters from Newcastle bundled up the donations for a special delivery to Vale Park, and the league two club has since distributed these to vulnerable and isolated individuals and families out in the community.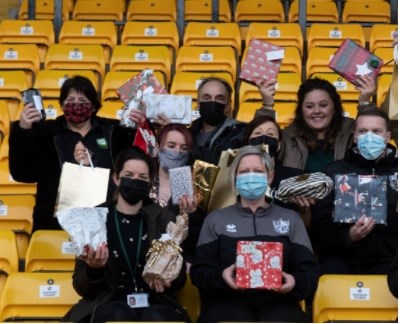 Port Vale has also hosted a special Christmas dinner at Vale Park – packed with presents, trimmings and a visit from special guests.
Kelvin Chell, Fire Safety Officer at Staffordshire Fire and Rescue Service, said: "This has been a very challenging year but it has been so important to support those vulnerable families in our community and try to bring some festive cheer.
"We are proud to have worked alongside Port Vale and partners on this year's Christmas appeal.
"It has been such a wonderful opportunity for us to make sure isolated individuals and families feel included this Christmas and for us to reach out and show we care.
Tom Sherratt, Head of Community at Port Vale FC Foundation, said: "This year's work has been absolutely fantastic.
"It is so rewarding to see the smile on people's face who perhaps wouldn't of had these experiences or memories without our help.
"Last year's appeal was a huge success and we continue to build upon this, working alongside our partners in delivering this service to our communities."
To read more on the Port Vale FC appeal, visit: Port Vale launches Christmas Appeal for 2021 - News - Port Vale (port-vale.co.uk)