Firefighters extinguish large double barn fire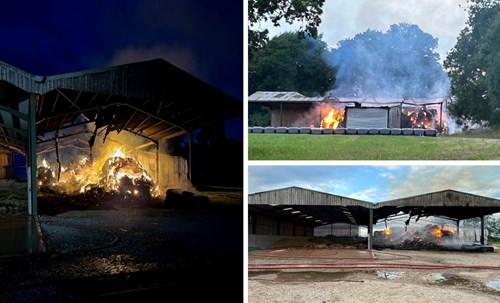 We have worked through the night to extinguish a large double barn fire at a farm in Rugeley. 
We were called to Lea Lane, Newton, just after 6.15pm yesterday (5 July) following reports of smoke and flames coming from the area.
A crew from Abbotts Bromley were the first to get to the scene and found two barns well-alight.
One of the barns was full of baled straw and the other was full of barley grain. They both measured around 55 meters by 40 meters.
Firefighters also spotted that the fire was next door to a large livestock shed, containing about 50 cattle who were at risk of coming into contact with the blaze.
As a result, further crews from Cannock, Rugeley, Chase Terrace, Lichfield, Uttoxeter, Wombourne and specialist appliances were sent to the scene to help contain the fire before it could spread any further.
Fortunately, through the quick work of our crews, the fire was contained before it could spread to the livestock and no one was injured.
Excess water to fuel main jets and hose reel jets was pumped using the Blithfield Reservoir nearby.
Crews are still dampening down hotspots in the area today (6 July) as an investigation into the cause continues.