Firefighters bringing generations together to spread community spirit
Firefighters from Cannock are helping to bolster community relationships with wellbeing sessions at the local station.
On Tuesday (20 September), members of The Prince's Trust served cake and refreshments to elderly residents from the Littleton Lodge Care Home after they got the chance to meet their local white watch crew.
They were given a tour of the station before trying on their own fire kit and being shown around the different brigade vehicles on the site, including Cannock's own UNIMOG, the only one of its kind in Staffordshire.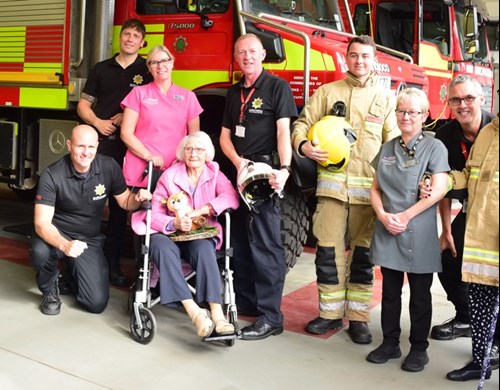 Station Manager Damian Armstrong, who organised the event, wanted to give back to the care home and continue to develop its relationship with the Service.
Previously, on 9 September, representatives from the Littleton Lodge hosted an emergency services event at their Hednesford facility, where staff from the care home donated a hamper of gifts to Damian and his colleagues in recognition of their efforts in the local community.
The event was held the day after Her Majesty Queen Elizabeth II's passing.
Station Manager Armstrong said: "It was a privilege and an honour to chat with the residents of the care home who had seen so much of Her Majesty Queen Elizabeth II's reign.
"A lot of people just wanted to come together and share their memories of her, which was really moving.
"We spoke with a woman who was 97-years-old, just a year older than Queen Elizabeth II, who had been alive for every event throughout her 70-year rule."
"It was extraordinary to chat to someone who experienced so much and at such an important time."
After being invited to attend the station as a thank you, residents and staff of the care home were given demonstrations on how firefighters use the various equipment at their disposal, including Cannock's very own UNIMOG.
Being so close to Cannock Chase, the 4x4 vehicle is capable of navigating the most challenging of terrains and provides crews with the essential resources needed to tackle serious wildfires, preparing them for any eventuality.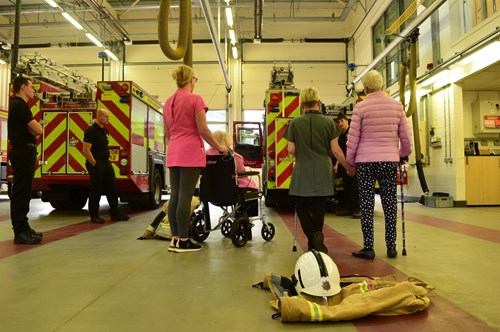 Damian, who has been station manager at Cannock since the start of the year, hopes to continue integrating with local communities and developing these important relationships.
He said: "Events like this are hugely beneficial for the wellbeing of both myself, my colleagues and the wider community, who can all take their own positives from sharing these experiences."
"I wanted to bring together the young people in The Prince's Trust and integrate them with the elderly residents and Service staff collectively.
"These different generations may have never had the opportunity to speak with each other before and enjoy a chat over a brew, which is something which we want to change.
The Prince's Trust is a charity that helps disadvantaged young people kickstart their employment and training in the UK.
They are required to complete 'random acts of kindness' during this process, which Station Manager Armstrong wanted to integrate into the visit of Littleton Lodge.
Youngsters from the charity served a selection of bites and refreshments before chatting with fire service colleagues and care home residents in the station's purpose-build community room.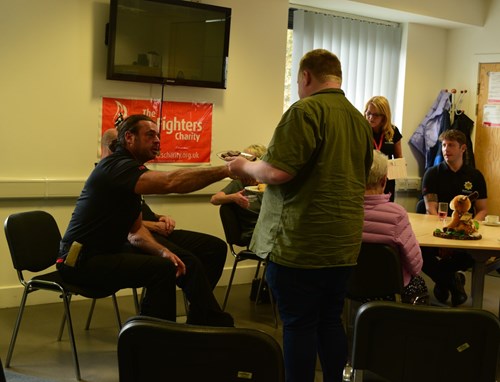 Damian said: "Ultimately, the core function of the Service is to serve members of the community and keep them safe.
"By frequently hosting these wellbeing sessions and bringing together different organisations and people, we can drive this objective forward and make a difference, whether this involves fighting fires or getting people chatting to each other."
Alex Ragusa, Care Manager at Littleton Lodge, said: "It's so heart-warming to see our residents and care team engaging with the local community.
"We love to open our doors to our friends and neighbours, and it was great to welcome the team from Cannock Fire Station. 
"Our residents had such a wonderful time at our Blue Light Breakfast and the tour of the fire station, and we all look forward to seeing them again soon."

If you would like to find out more about The Prince's Trust involvement with Staffordshire Fire and Rescue Service, email: princes.trust@staffordshirefire.gov.uk