Firefighters and football club spread festivities with Christmas dinner
Community spirit is at the heart of everything we do - and that's why we teamed up with a local football club to host a Christmas day meal this year.
We worked alongside Port Vale FC, Port Vale Foundation, Staffordshire Police and partners to support local communities around Stoke-on-Trent once again this year. Watch Manager Matt Sykes and crews from Sandyford helped to cater for more than 100 guests on Christmas Day (Sunday 25 December) which was hosted at the club's home ground, Vale Park.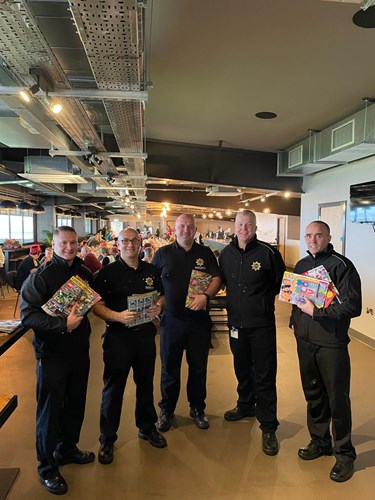 Since the project started, we've helped to provide more than 600 vulnerable people with a hot Christmas dinner - as well as donating thousands presents and gifts in the build-up to Christmas day for those who need some festive cheer.
Chief Fire Officer Rob Barber, who also attended, said: "It's a fantastic feeling to be part of such a positive initiative which really helps us and our partners give back to those in need.
"Everything we do as a fire service - whether it's completing safe and well visits, fighting fires or just having a brew with members of the community is aimed at protecting those who are most vulnerable.
"A lot of these people have endured a really difficult time this year and it was a really proud moment for the crews who attended to be able to give something back to them and make their Christmas a little bit better.
"It's vital that we continue to support local initiatives like this in the future to ensure we can do out bit to look out for those in need and continue supporting our communities as much as we possibly can.
"it was great to enjoy the festivities on the day and to see everyone having a great time."