Firefighter recognised for his dedication and nominated for local hero award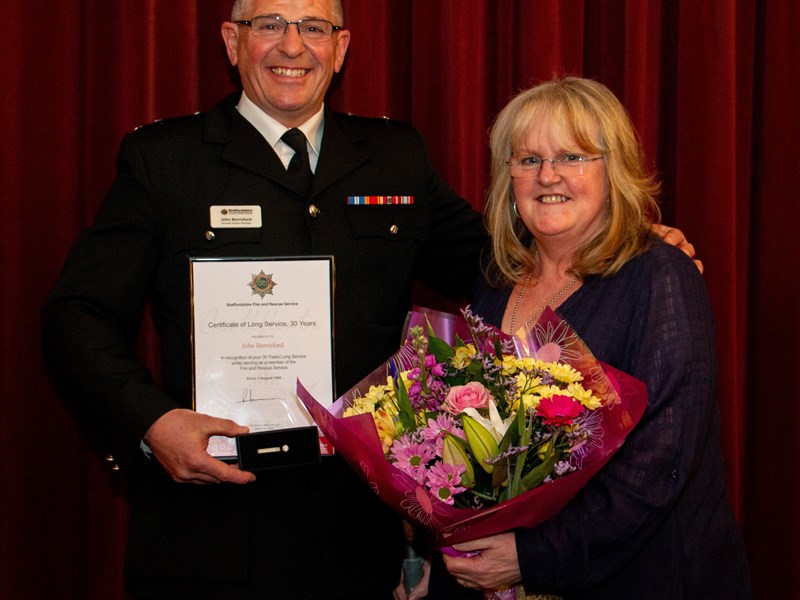 A firefighter from Staffordshire Fire and Rescue Service has been recognised for his devotion to the service by being nominated for a local hero award.
John Berrisford, Business Support Lead at Staffordshire Fire and Rescue Service, has been nominated for the Uniformed Hero Award at this year's Your Heroes Awards.
The awards celebrate the unsung heroes of communities across Stoke-on-Trent and North Staffordshire.
The awards are sponsored by Stoke-on-Trent City Council, Staffordshire University and the Community Foundation for Staffordshire and organised by a dedicated team of volunteers supported by Port Vale FC and the Port Vale Foundation in partnership with numerous local organisations.
John, who has worked for the service for more than 30 years, has already received his 30-year service clasp, an honour which recognises firefighters and control staff for dedication to their careers in the fire and rescue service and the communities in which they serve.
Since 2022, the long service clasps have been approved by the Monarch and given the Royal Warrant. The clasp and rosette are added to the Fire Service Long Service and Good Conduct Medal, which John was awarded in 2012.
As part of his role, John supports and mentors start-up businesses and he is also on the Board of Directors of Staffordshire Chambers of Commerce where he is a business mentor.
He is also an enterprise advisor at Endon High School and a member of a local community group.
Reflecting on his nomination, John said: "Serving the community is my job and I'm so proud to be able to do that, but being nominated for a Your Heroes Award is amazing.
"There are so many people out there doing great things for others and for someone to recognise the work I do is fantastic. I'm humbled but at the same time thrilled to be recognised.
"Staffordshire Fire and Rescue Service is much more than preventing and putting out fires. We are an integral part of the community, and it has been a privilege to impart some of my knowledge to help and hopefully inspire schoolchildren, start-up businesses and established businesses to achieve their potential."
The awards are due to take place later in the year in November.