Firefighter completes mammoth cycling challenge for charity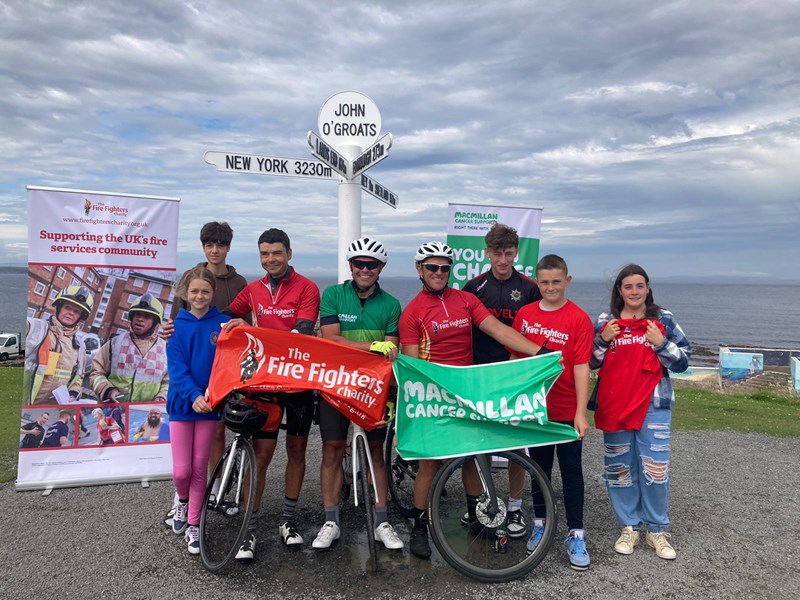 A Staffordshire firefighter has completed a gruelling 1,000 mile cycle ride from Lands End to John O'Groats in ten days to raise money for two charities.
Russ Brown, Station Manager at Staffordshire Fire and Rescue Service, completed the challenge alongside fellow firefighters Rob Simcox and Alec Thomas from Shropshire Fire and Rescue Service on Saturday (29 July).
They started the journey on Thursday (20 July) and initially set a target of raising £3,000 for The Fire Fighters Charity and Macmillan Cancer Support.
Now, after completing the challenge, Russ and the team have gone onto raise more than £5,000, and have now set a revised target of £6,000.
Russ and his fellow cyclists completed more than 90 miles per day for both charities and in memory of their loved ones who had passed away as a result of cancer during the coronavirus pandemic. Russ has been a firefighter for 21 years in the service and is now based at Codsall Fire Station.
Having reflected on completing the incredible feat, Russ said: "I would like to take this opportunity to say a massive thank you to everyone who supported us along the way.
"The first couple of days were tough in Cornwall and Devon and day three saw us getting a soaking in wet conditions through Cheddar Gorge. And to make matters a little more difficult, we had a couple of mechanical issues along the way.
"However, the support from start to finish was incredible and we had colleagues from Staffordshire and Shropshire who gave up their own time to drive the support vehicle."
Cycling from Lands End to John O'Groats was always on the bucket list for Russ. Although, he admitted the challenge did have its physical and mental challenges.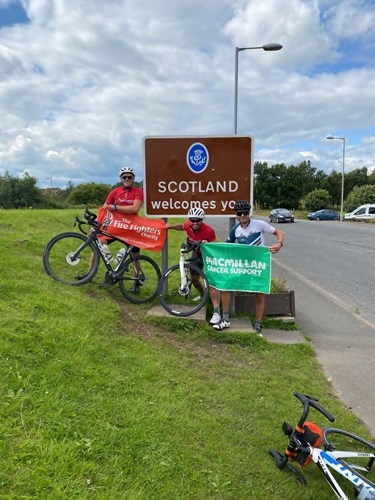 Russ added: "Cycling from the South West of England to Scotland definitely was a test of endurance and there were times throughout where we were tested physically and mentally.
"But there were so many highlights and moments throughout the journey that kept us going.
"Our colleagues from Staffordshire and Shropshire were always on hand to check on our wellbeing, grab provisions, take photographs and provide moral support and words of encouragement.
"Personally, day four was excellent as I got a great welcome from Kinver fire station which was followed by the opportunity to spend time with my family who were waiting at Newport fire station with a carnival atmosphere, which gave me the boost I needed having completed a third of the journey. We even visited a ice cream farm in Lancashire which was another fun highlight, providing much needed calories and energy.
"It was an emotional moment for sure reaching John O'Groats but all the hard work put in training paid off. I actually got to a point where I was gutted it had finished. I would have happily turned around at John O'Groats and cycled back to Lands End. Although, I'm not sure everyone else was as keen as me to do this!"
You can still show your support and donate to Russ' cause by visiting their fundraising page.