Fire station teams up with football club to support local community
Firefighters are teaming up with Burton Albion Football Club as part of a community-focus initiative.
The partnership, which is already underway, will provide wellbeing support, employment opportunities and work-related experiences to a diverse local community, with both the Fire Service and football club at its heart.
It comes as Staffordshire High Sheriff and Burton Albion Chairman, Ben Robinson MBE DL, and Matt Hancock, Head of Community at Burton Albion Community Trust, met with Burton Fire Station Manager John Kitchener to discuss the initiative.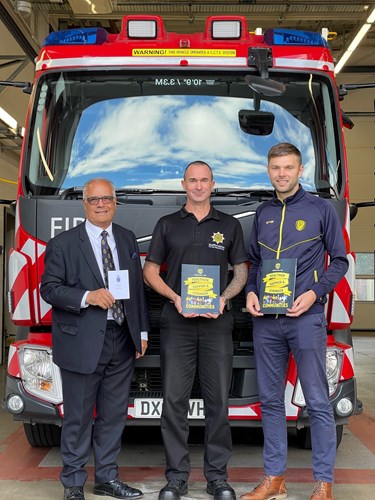 John said: "Serving our community is the Fire Service's core focus, and with the support of Burton Albion, we can continue to drive this objective forward and create positive outcomes for the people of Burton-on-Trent."
The partnership will see joint open days at both the club and fire station, training opportunities for youngsters, joint-fire prevention sessions, community fundraisers and more.
It is also a chance for the Fire Service to identify potential new recruits.
As part of the scheme, young people will get the chance to chat with firefighters and representatives from the Burton Albion Community Trust – with the aim of boosting their confidence and help them to potentially pursue careers within Staffordshire Fire and Rescue Service.
Ben Robinson MBE DL, said: "We were delighted to visit the fire station and we are excited about the plans for our partnership and what we can achieve working together.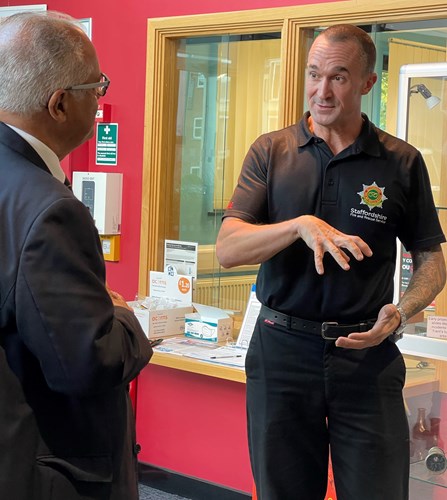 "Supporting the community is at the heart of everything we do at Burton Albion and that involves working with a diverse range of organisations and pooling our expertise and resources.
"This builds on our longstanding relationship with firefighters and will see us make an even greater impact going forward."
Prior to this latest partnership work, Burton-upon-Trent station has enjoyed a long-lasting relationship with The Brewers for more than half-a-century. Historically during the 1970s, when Burton played at Eton Park, crews would water the grass during dry-spells and help groundsmen keep the pitch in tip-top condition.
Now, both organisations hope to continue this relationship with John planning to participate in the Brewers 10k event, in full firefighter kit on Sunday 9 October.
Matt Hancock, of Burton Albion Community Trust, added: "The trust and fire service share common goals and ambitions and our partnership can only go from strength to strength.
"We have a lot of exciting plans in the pipeline and I'm especially pleased that John is joining the Brewers 10K, which is going to be another great community event."