Fire Service rewarded after helping 450 vulnerable people who had fallen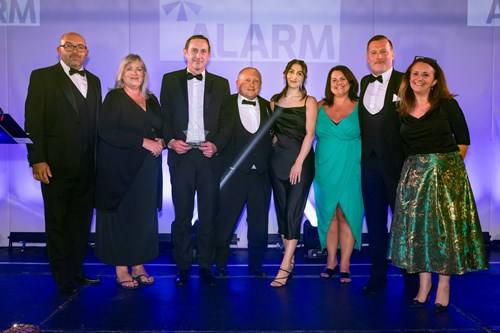 We have been celebrated for our achievements in responding to falls with a dedicated national award.
Back in December last year, we started a joint initiative with the NHS, West Midlands Ambulance Service and the Stoke-on-Trent Integrated Care Board to respond more effectively to reports of falls across the county.
Since then, our dedicated falls response team have helped more than 450 vulnerable residents who had fallen and were unable to get back to their feet.
The initiative was designed to reduce the demand on the ambulance service and local hospitals by assigning fire service personnel to attend incidents where people had fallen and needed help.
As part of the response, the team also carry out a safe and well visit with the person affected and make sure they have access to the necessary support.
At a special ceremony held in Manchester on 3 July, we received the Organisational Award at this year's ALARM Risk Awards for the hard work, long hours, agile thinking and collaborative working with partners which contributed to the success of the scheme.
Ian Read, Head of Prevent, Protect and Partnerships at Staffordshire Fire and Rescue Service, said: "We're proud to have been recognised alongside partners in supporting communities in Stoke-on-Trent and Staffordshire who have suffered falls.
"Not only have we been able to work with our partners in helping to reduce the number of calls and hospital admissions and alleviate pressure on the overall health system, we have made a positive impact on local communities across the county.
"Patients and their families have had a peace of mind that we have attended with highly trained staff to provide urgent assistance in their time of need.
"We have also been able to continue to carry out essential community safety initiatives by offering safe and well visits to those that we attend."
Following the success of the scheme, extra funding was secured until the end of March 2024 – meaning that we can continue to help vulnerable members of the community as effectively as possible and continue to ease the demand on paramedics in Staffordshire.
Chief Fire Officer Rob Barber said: "It is great to see that the hard work and dedication of our team has been recognised at such a prestigious event.
"Although not traditionally a core fire service function, we have helped provide a vital lifesaving service in the community. We've received a lot of positive feedback from communities and the families of residents we have helped."
Dr Paul Edmondson-Jones, Chief Medical Officer at the ICB, said: "Falls are one of the leading causes of avoidable hospital admissions.
"Very often the damage is done by not being able to get back to your feet and lying on the ground for an extended time, not the initial fall.
"Fire and rescue officers already do a great deal to make sure people live in safe homes and the award win is recognition this work is helping to reduce demand on NHS services."
To find out more about how to keep safe in the home, visit: Safe and Well (staffordshirefire.gov.uk).