Fire service records spike in shed fires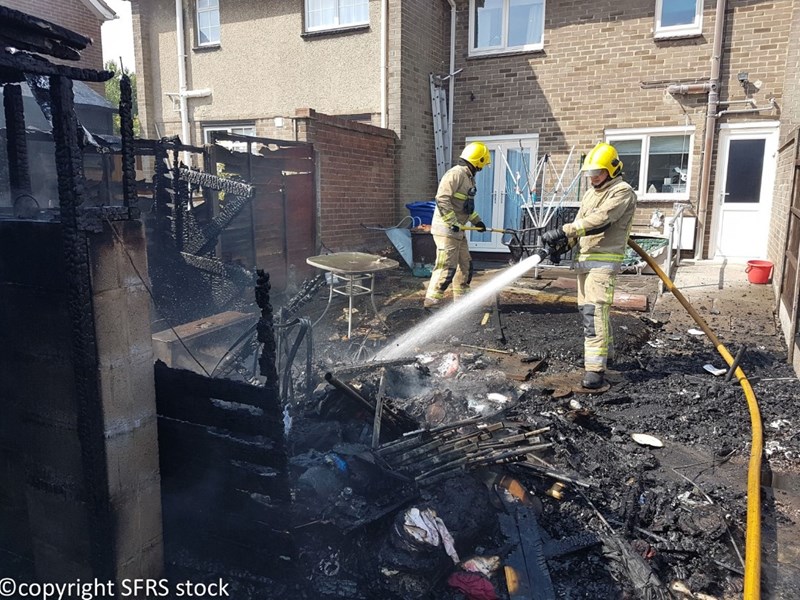 Firefighters have issued a warning after a spate of shed fires in east Staffordshire.
Between March and July, a total of four shed fires were reported to Staffordshire Fire and Rescue Service, with a total this year of eleven separate reports.
On one occasion, a shed fire in Rocester had rapidly spread to properties nearby, resulting in three homes being deemed uninhabitable as a result of the damages.
Community Safety Officer, Hannah Grostate, of Staffordshire Fire and Rescue Service, said: "Shed fires can rapidly become uncontrollable and pose significant danger to neighbouring properties and land.
"They are most likely associated with smokers or those who may have electric appliances active in their outhouses for prolonged periods of time, with the potential to cause collateral damage to houses within the area.
"Detritus will often gather around a shed if it is not properly maintained, which can easily ignite and spread to surrounding fence panels and shrubbery which will fuel the flames.
She added: "Particularly in the warmer months, electrical appliances within outbuildings can become faulty or overheat, often igniting the wooden frame and burning nearby electrical items inside.
In order to mitigate the risk of a shed fire within your property, we advise residents to:
•          Make sure electrical items are working correctly, with no damage to cables
•          Ensure substances like paint thinners, gas cylinders and oils are stored in your shed safely and securely in approved containers
•          Dispose of any flammable items you're unlikely to use in the future
•          Avoid storing barbecues in sheds until they are completely cooled
•          Position bonfires and barbecues far from sheds and outbuildings as possible
For more information on how to prevent fires within your property, visit: Safety at home (staffordshirefire.gov.uk)