Fire Service celebrates double award win for pandemic work

We are celebrating after winning two prestigious national awards at a ceremony recognising our work in helping others during the covid-19 pandemic.
The service was awarded the Frontline Risk Award and Partnership Award at this year's ALARM Risk Awards held in Manchester on 4 July.
The awards take place annually to celebrate achievements in risk management.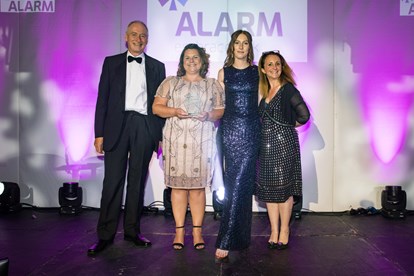 The Frontline Award recognises the hard work, long hours and collaborative working, that has underpinned the past two years of the service's work in managing risk and building resilience during the pandemic.
The service had been nominated for the award by University Hospitals of North Midlands NHS Trust for its role in delivering anti-viral medication to those at high risk of covid-19 during the pandemic.
Sue Thomson, Clinical Director of Pharmacy at University Hospitals of North Midlands, said: "We are delighted this service has been recognised by a national award. The partnership has meant vital medicines were delivered to our most vulnerable covid-19 patients within the community.
"The hard-work and dedication of the team to ensure this service has been a success shows a true testament of their efforts during the pandemic."
The Staffordshire Covid Medicines Delivery Unit (CMDU), supported by Staffordshire Fire and Rescue Service, provided this home delivery service for six months.
More than 400 patients benefitted from the medicines delivered to their homes by the service.
The fire service was further recognised for its collaborative working as it also won the Partnership Award.
As part of the partnership working, we liaised with colleagues in the NHS, Staffordshire County Council and Stoke-on-Trent City Council, on a number of initiatives to help the covid-19 vaccination roll-out in communities across Staffordshire and Stoke-on-Trent.
Fire crews took the lead on logistical support and worked with the NHS in communicating with under-represented groups in order to ensure they received their vaccinations.
Crews also visited high schools to help administer vaccinations on the ground.
This multi-agency partnership enabled us to help to deliver vaccinations at more than 30 accessible sites as well as administer more than 2.3 million vaccinations across Stoke on Trent and Staffordshire.
Paul Northcott, cabinet support member for public health and integrated care at Staffordshire County Council, said:  "Working together was key to Staffordshire's successful response to the Covid pandemic.
"The Fire and Rescue Service made a fantastic contribution including management of outbreaks, community testing and the vaccination programme. We are fortunate to have such willing partners here in Staffordshire."
We are continuing to work with the NHS to support vaccination clinics for both covid-19 and influenza.
Victoria Adams, Strategic Risk Manager at Staffordshire Fire and Rescue Service, who accepted both awards on the night, said: "For the service to win not one but two ALARM Risk Awards is truly humbling and came as an unexpected surprise.
"We're honoured to have been recognised and win two national awards.
"We're also proud to have played our part in supporting partners to deliver vaccinations across communities in Stoke-on-Trent and Staffordshire as well as delivering medication to vulnerable people during the pandemic."
Rob Barber, Chief Fire Officer at Staffordshire Fire and Rescue Service, spoke of his delight on the service's work during the pandemic being recognised.
He said: "It is great to see that the hard work and dedication of our team has been recognised at such a prestigious event.
"It is vitally important to us at Staffordshire Fire and Rescue Service that we support our NHS partners and do whatever we can to support all of our communities.
"We have worked throughout the pandemic and beyond to ensure that our communities receive the highest level of support possible."