Fire fighter recruits prepare for passing out ceremony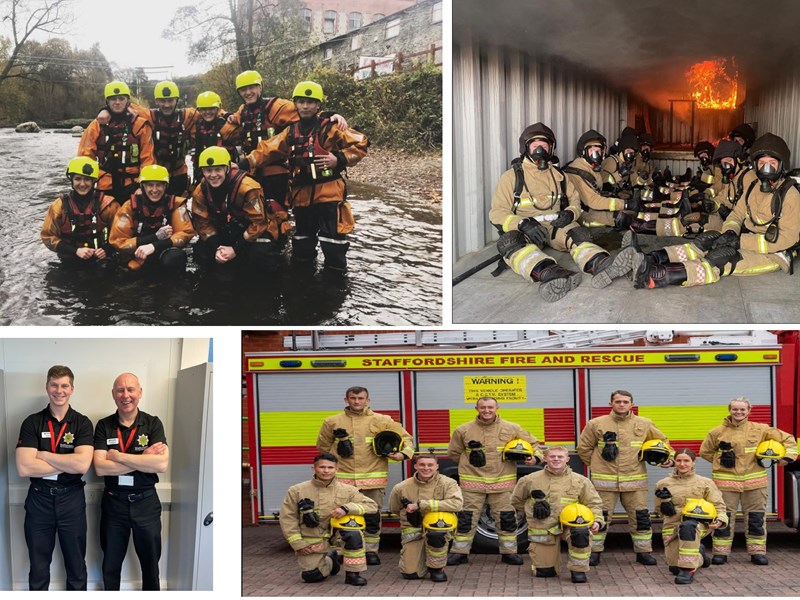 Fire fighter recruits prepare for passing out ceremony
Whole-time fire fighter recruits from Staffordshire Fire and Rescue Service are preparing for their passing out ceremony to conclude their initial training as a members of the service.
The recruits, aged from 21 to 53, started their challenging 15-week training in September.
Now they are due to be recognised for all their hard work in a special covid-safe ceremony. 

The recruits will be issued with their certificates on Friday 17 December at Staffordshire Fire and Rescue Service headquarters in Pirehill, Stone.
Training officers will also be on hand to acknowledge the most outstanding recruit during the process and issue further special awards. 
The training process includes: how to use hose reels, breathing apparatus, pumps and ladders as well as how to conduct a water rescue, carry out searches, work at heights, conduct manual handling, deal with hazardous materials and recover from trauma.
For the youngest recruit, Ben Kelly, aged 21, from Penkhull, the process has been a dream come true.
He said: "I've always wanted to be a fire fighter, and when I saw there was an opportunity to join, I jumped at the chance."
Ben, who has recently completed a degree in Fire and Rescue at the University of Wolverhampton, was keen to turn his academic study in a practical career.
"I've never been particularly good at DIY or anything like that, so getting hands-on experience has been a real wake up call," he said.
During his training, Ben has got used to how the service works, polished his boots, kept the kit clean and been "shattered every night," he said. 
"When you're actually here, out on a water rescue or at a collision, you realise how tough it can be at times, but I can't wait to get started," He said.
Another young recruit has a similar perspective.
Connor Cartlidge, aged 23, from Meir Park, said: "For me, I have enjoyed learning how to do water rescues the most – because you have to learn how to read the water, what to do if you get dragged away – how to return to safety, how to use throw lines and where to position yourself."
Connor, who was made redundant from his former roll as an apprentice aerospace engineer during the early days of the pandemic, said he decided to give his application "everything he had".
"It's been class, I've loved every minute of it," he said.
Kevin O'Donnell, aged 53, is the oldest recruit to join the ranks of the service.
Formerly a lecturer, Kevin harks from Edinburgh, but has lived in Staffordshire since 1997.
He said the experience has been a different kind one from those of the younger recruits.
"For me, it's been a slow growth of learning, but very intense at the same time – in a positive way!
"The level of instruction that has been delivered has been so different to what I've been used to, with the fire service there is a safety critical aspect - everything has a consequence, so the learning has been vast for me.
"It's already been so rewarding – it was just the type of challenge I was looking for."
Kevin, who has a hobby as a climber, has loved working at heights as part of his fire fighter training and has seen the impact of the course on his lifestyle.
He said: "In the fire kit, I've never been so hot in my life!
"I've had to double my food intake and increase my water intake by six times to keep hydrated, but it's been so worth it.
"I'm looking forward to being at the station, meeting new people and bonding with the team on real-life scenarios, though I'm just thinking about finishing the course first!" Kevin added.
Recruit James Coley, aged 25, from Tamworth, is used to ceremony days, having previously been in the military.
He said: "There were 110 of us in one intake in military training, but here there are 15 of us and so the bond you get is a lot stronger, which you really need.
 "The best bit for me has been learning to use the breathing apparatus.
"There are so many things to think about when you're using it – you've got your thermal imaging camera, you've got to do land-marking, hose reel management, look for casualties as well as work as a team and focus on your breathing – it really tests you."
But the best part of the training for James, is knowing that soon he will be out on real-life jobs.
He said: "I just want to help people, and if I can get the adrenaline boost at the same time, that's even better!"
The most challenging week is week 14, directly before the ceremony, which sees recruits tackle a number of scenarios based on real-life incidents that fire fighters would tackle day-in-day out.
These include active, live fire-fighting, road traffic collisions, along with prevent and protect activities out in the community.
Speaking of the training, trainer Jon Ashby, said: "The skills that the recruits will have gained during this intense period of training will stay with them not only during their time as a fire fighter, but as individuals out in the communities we serve – helping people protect themselves and their families from the dangers of fire.
"The recruits have done exceptionally well during a period of uncertainty throughout the pandemic, and have excelled in the practical and theoretical elements of their course.
"I hope they are able to take the time, during the ceremony, to reflect on their achievements and look forward to their future in the fire service."
Anyone who is interested in finding out more about working with Staffordshire Fire and Rescue Service should visit Careers | Staffordshire Fire and Rescue Service.