Fire crews put football scholars through their paces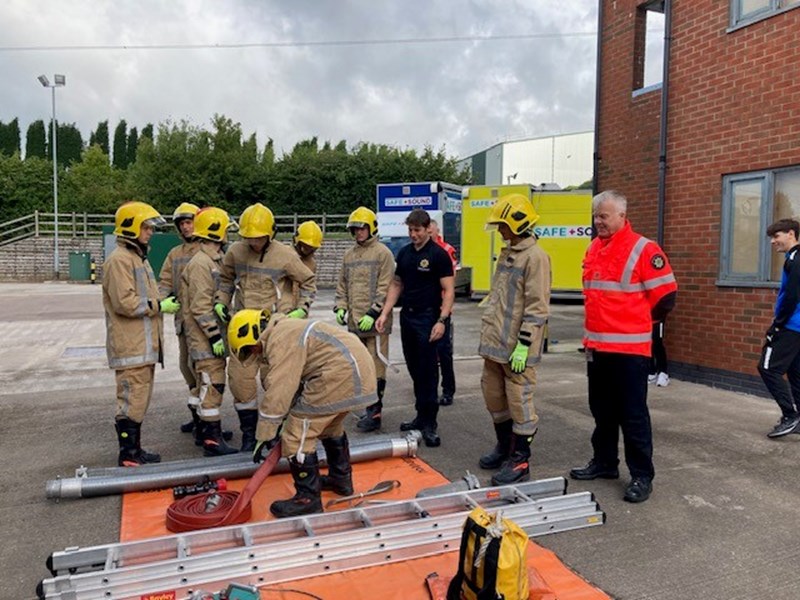 Firefighters have put football scholars from Port Vale Football Club through their paces at a recent event aimed at building their teamwork skills.
Sandyford's White Watch crew welcomed the youngsters on 30 and 31 August on a two day programme as part of their scholarship with the local club.
They got the opportunity to learn about the role of a firefighter and carried out a series of activities – including teamwork drills, building dams, fitness tests and home fire safety checks.  
One of the tasks even included the footballers carrying out a search and rescue as part of a training scenario – which all of our firefighters complete in their own training.
Ant Ball, Station Manager at Sandyford Fire Station, said: "It was a pleasure to welcome the scholars from Port Vale and the two-day event gave them the opportunity to experience what it is like to be a firefighter and learn about our roles and responsibilities. The day was planned and organised by watch manager Matt Sykes and crew manager Mitch Stafford, may I express my thanks to them and the watch.
"Football and in any team sport, team spirit is key and there were plenty of moments where the footballers showed their teamwork skills in the exercises we organised.
"We thoroughly enjoyed hosting the scholars and the event also gave us and our service volunteers an opportunity to continue to build relationships with Port Vale Football Club.
"The scholars showed exemplary attitude throughout the event and I wish them the very best for the future."
Head of Academy at Port Vale Football Club, Will Ryder said: "We'd like to thank the team at Sandyford Fire Station for welcoming our scholars for two days of training.
"It was an invaluable experience for our players and there are transferable skills especially around the importance of working together and having the trust in your teammates that they can take onto the pitch.
"We're looking forward to working closer together and can't wait to see what is next for the lads."