Fire colleagues nominated for heroes' award
A total of fifteen emergency service colleagues have been nominated for an annual award in recognition of their exemplary achievements.
Three nominees from the list are invited to attend a ceremony at the DoubleTree by Hilton, in Stoke-on-Trent, after being selected by a panel of judges including Chief Fire Officer Rob Barber and Cllr Abi Brown.
Amongst those nominated for the award is firefighter Anthony Doolan.
The 34-year-old Hanley crew manager wanted to help in any way he could after seeing parents dropping off their kids at train stations in Ukraine.
He began to ask his fire service colleagues for donations – including clothes, wash kits, nappies and more - and personally organised for the goods to be transported to a national charity in the country.
Crew Manager Doolan said: "When I watched the news and saw that parents were desperately trying to get their kids to safety, I knew I had to do something to help.
"It really struck a nerve with me as I have children myself.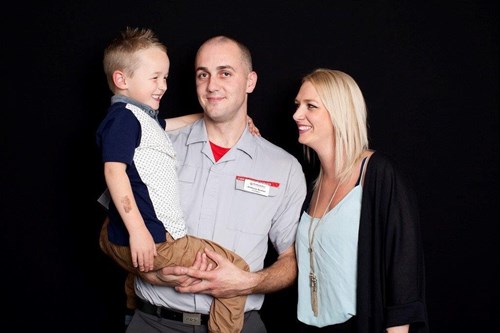 "I came up with the idea to collect donations from my colleagues, which were transported by a friend who works in a haulage company."
Following this, Crew Manager Doolan also heard about fire engines which were due to be driven to Poland to help fight fires in Ukraine.
He was amongst those who personally drove 20 fire engines to Poland for aid against the conflict.
As a result of his selfless actions, Chief Fire Officer Rob Barber nominated him for the uniformed heroes award.
CFO Barber said: "Anthony is a committed member of the watch at Hanley Fire Station and has done all of this work in his own time.
"It demonstrates everything we come to expect from our emergency service workers – that in a crisis they will go far beyond the call of duty to support communities."
Following the news that he was up for an award, Anthony said:
"You definitely don't do this type of thing for any sort of recognition. I'm surprised and honoured for the nomination, but I just wanted to help in any way I could."
Amongst those shortlisted is also former firefighter Kelvin Chell.
He retired as the service's longest serving member back in September, after completing a 50-year career and raising over £500,000 for local charities.
Whilst operating full time, Kelvin arranged hundreds of fundraisers for causes like Air Ambulance, Royal British Legion, Sneyd Green Primary School, Dougie Mac Hospice, Donna Louise, MACCAS project (mental health in the young), the Royal Stoke University Hospital cancer ward, Cardiac Risk in the Young and various others.
As a result, Chief Fire Officer (CFO) Rob Barber nominated the award.
CFO Barber said: "Kelvin has been an inspiration to so many within our Service.
"I have worked alongside him and I know how diligent and hardworking he is. He has maintained the highest standards throughout his incredible 50-year career.
"His fundraising has benefitted some of the most vulnerable within Staffordshire and Stoke-on-Trent and he has impacted upon every single person who has met him within the Service.
Kelvin said: "I'm very grateful and appreciative of the Chief's nomination but this is only part and parcel of the tremendous fire family I was part of.
"My colleagues, no matter their rank or role, have always supported me in various ways to help raise money and awareness for good causes across Staffordshire and serve the local community."
Kelvin and fellow nominees make up the shortlist for the Uniformed Heroes 2022 award,  which is sponsored by Stoke-on-Trent City Council, Staffordshire University and the Community Foundation for Staffordshire.
It is organised by a dedicated team of volunteers supported by Port Vale FC and the Port Vale Foundation, in partnership with numerous local organisations.
Aside from the Uniformed Heroes category, the organisation also celebrates achievements from children of courage, future stars, charity champions, NHS heroes, education, sport and more.
Cllr Abi Brown, Leader of Stoke-on-Trent City Council, said: "I work very closely with Staffordshire Police and Fire and Rescue Service, particularly for our Safer Streets programme which tackles crime and antisocial behaviour.
"I found the judging for the Uniformed Hero category especially hard because I know that every one of the nominees does a brilliant job in helping keep our city and residents safe, and we have seen them going above and beyond their normal duties to help those who need it.
"These are the best examples of civic pride that we could ever wish to see and I am honoured to be involved in the awards."