Fifty-years' service and over £500k raised for charity – our longest serving firefighter retires
Our longest-serving firefighter is hanging up the boots after half-a-century of service to Staffordshire.
Sixty-six-year-old Kelvin Chell retires this weekend (Sunday 4 September) after completing an incredible 50-year career with the Service – exactly five-decades after he started back in 1972. 
Kelvin has championed for countless charities throughout his career, raising over half-a-million pounds for causes like Air Ambulance, Royal British Legion, Sneyd Green Primary School, Dougie Mac Hospice, Donna Louise, MACCAS project (mental health in the young), the Royal Stoke University Hospital cancer ward, Cardiac Risk in the Young and various others – all whilst fulfilling his operational duties in the fire service.
"It's going to feel strange. It's all I've known since I was 16-years-old," said Kelvin.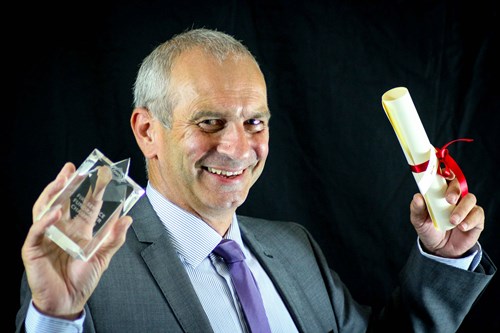 In September 1972, Kelvin joined the Service as a junior firefighter straight after leaving school.
Within two years, he joined Hanley red watch and began his acclaimed career with the Service – coinciding with the amalgamation of the Staffordshire Fire Brigade, which joined Stoke-on-Trent, Burton-upon-Trent and Staffordshire together under the same banner that it is today.
From there, Kelvin worked across various fire stations in the region, including Longton, Burslem and Newcastle-under-Lyme, enjoying roles as a firefighter, crew and watch manager.
He said: "I've attended incidents of all types during my career – ranging from road traffic collisions as part of a rescue tender crew in Newcastle to several pot bank fires in the north of the region.
"These incidents have involved challenging and tactical rescues which have ultimately saved lives."
Kelvin's operational expertise was vital for Staffordshire Fire and Rescue Service, just as much as his incredible fundraising ventures for local communities.
He said: "One thing I picked up straight away was the desire across the service to help people who were less fortunate, particularly with charity fundraising.
"It's something which I believe is deeply-rooted into the culture and ethos of everything we do."
"I will always remember one fundraising event we held in the late 80s in Hanley, when we issued a press release for people to make donations to be auctioned for Children in Need.
"We received hundreds of donations, all in the act of complete kindness and compassion from all walks of life and businesses."
As a result, Kelvin and the Service were able to auction holidays, car and caravan hire, jewellery, 5,000 building bricks, tickets for sporting events and more.
A pair of signed Phil Collins drumsticks were also auctioned, fetching over £500.
Kelvin and his colleagues were also responsible for the birth of the locally acclaimed 'Stokie Christmas Market', which raised over £75,000 for the local community over the course of six years.
He said: "We were sat having breakfast one morning and discussing the different Christmas markets we were attending, and I just made a flippant comment about organising our own market here in Stoke to fundraise for the community.
Kelvin raised around £15,000 every single year from then on.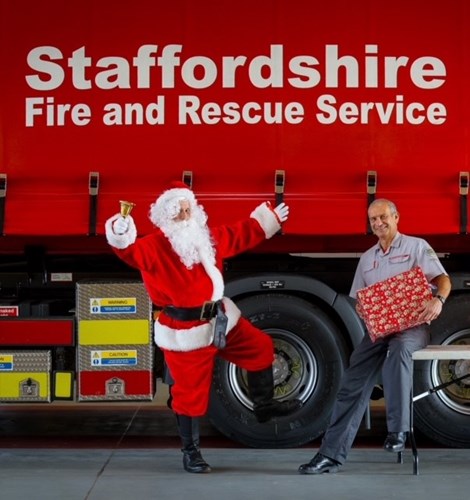 "It's what we do best at Staffordshire Fire and Rescue Service," he said.
Following Kelvin's outstanding service, Chief Fire Officer (CFO) Rob Barber nominated the veteran for a Your Heroes 2022 award, in celebration of his career.
CFO Barber said: "Kelvin has been an inspiration to so many within our Service.
"I have worked alongside him and I know how diligent and hardworking he is. He has maintained the highest standards throughout his incredible 50-year career and I am going to miss him greatly, as many of his colleagues will too.
"His fundraising has benefitted some of the most vulnerable within Staffordshire and Stoke-on-Trent and he has impacted upon every single person who has met him within the Service.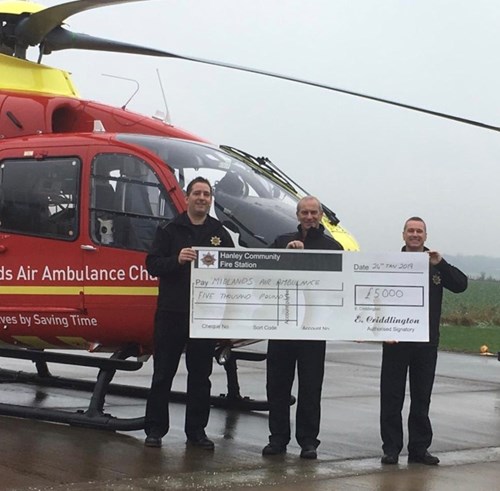 Kelvin said: "I'm very grateful and appreciative of the Chief's nomination but this is only part and parcel of the tremendous fire family we have.
"My colleagues, no matter their rank or role, have always supported me in various ways to help raise money and awareness for good causes across Staffordshire.
"We serve the local community in a variety of ways, whether this is fighting fires, rescuing those in need, supporting victims, fitting smoke alarms, issuing fire safety advice or championing charities and organisations across the region."
Prior to his final day, Kelvin operated from Newcastle Community Fire Station as a fire safety inspecting officer – enforcing the regulations of various workplaces and public premises in north Staffordshire. 
CFO Barber chaired a presentation for Kelvin in the build-up to his retirement, honouring his exemplary achievements both within the Service and within Staffordshire's communities.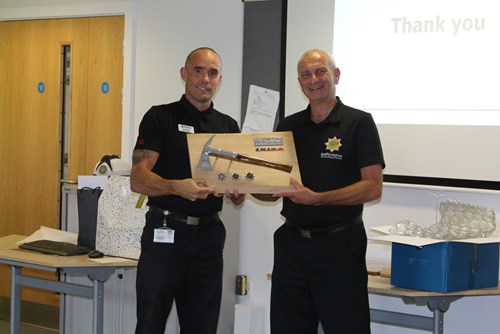 Kelvin added: "I owe my wife a special holiday after 50 years. That's first on the list once I leave.
"I'm going to retire with half-a-century of fantastic memories, friends and family to take with me.
"My career was everything I wanted it to be back in 1972 and it's something I will always cherish leading into my next chapter, with my wife Lorna, son and daughter Louise and Stephen and grandsons Harry, David and Finley."