Female firefighters encouraging more women to join service
Female firefighters are encouraging more women to join them as our latest recruitment campaign is underway. Women currently make up just 9.1 per cent of the operational workforce but we're hoping this latest recruitment drive will encourage more to consider a career with us.
A varied role with opportunities to progress, a good shift system, generous maternity and pension schemes were what attracted Krissi Walchester to the role.
Krissi who is based at Leek Community Fire Station and joined in 2006 said: "Being a firefighter wasn't a career I set out to do but it was suggested to me, so I went for it and have never looked back. It's a role I thoroughly enjoy, knowing I'm making a difference. Being a female firefighter shows other women that they can also carry out the role and helps us reflect the community that we serve. 
"As a mum to two young girls I've benefitted from an excellent maternity package. The shift system works well too because I work longer shifts over less days which helps with childcare."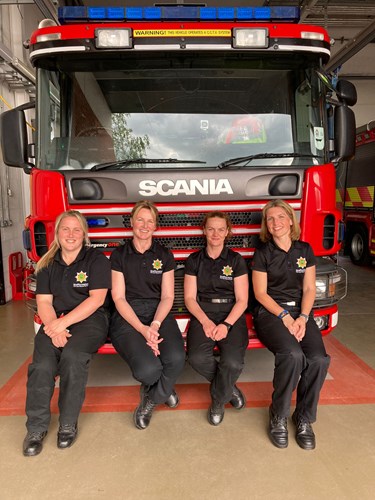 Station Manager, Helen Chadwick who joined in 2002 added: "I don't think that it's a career a lot of women consider but I really think they should. If you want to progress the opportunities are there, I've worked in various departments from training to consultation, so it's not just about the traditional firefighting element of the role."
Applications for full time firefighters are now open until 23.59pm on 15 October. Full details about the role, the benefits and the application process can be found at https://www.staffordshirefire.gov.uk/careers/firefighters/