Eight veterans receive volunteer award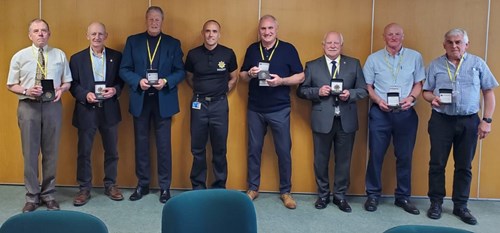 Chief Fire Officer (CFO) Rob Barber presented eight veterans of the fire service with a 2022 Coin of Recognition for their exceptional voluntary service through the pandemic.
The group have over 250-years of service between them and received their award at the Service's HQ in Pirehill, Stone on Tuesday (7 June).
CFO Barber said: "Myself and the service remain committed to recognising the efforts of everyone that has supported emergency response to the pandemic, and our retired members are no exception to that.
"They have been fantastic. They have supported the vaccination programme in order to drive the national effort across our communities, and as such I wanted to ensure their efforts were recognised accordingly." 
Three servicemen from Staffordshire Moorlands in Alf Wilson, Paul Campion and Mick Toghill received their awards, alongside two from Stafford in Cliff Gilbert and Alan Macyntyre, Andy Buttery (Eccleshall), Jim Robinson (Newcastle-under-Lyme) and Graham Dow (Cheadle).
For more information on operational and staff careers within Staffordshire Fire and Rescue Service, visit: Careers | Staffordshire Fire and Rescue Service