Discarded disposable barbeque leads to woodland fire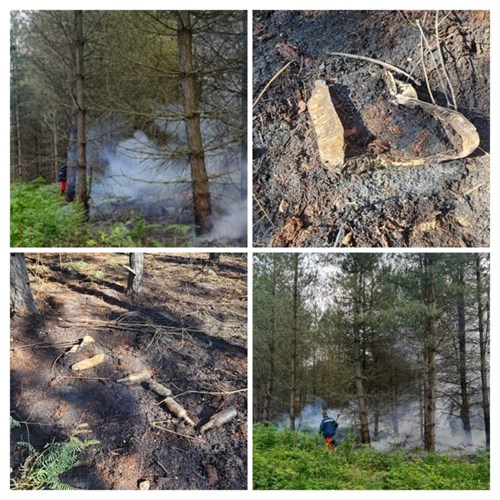 We are re-issuing advice around the risks of open barbeques in open spaces following a fire in Cannock Chase.
Local firefighters from Cannock were sent to Cannock Chase just after 6pm on Thursday (6 July) after a barbecue had caught fire to the surrounding greenery.
Beaters and a hose reel jet was used to extinguish the fire by 9pm.
After inspecting the cause, we later deemed the fire to be caused as a result of a disposable barbeque not discarded safely. 
Disposable barbecues are a serious concern for us and if they are left unattended or not disposed of safely, they could result in a wildfire, especially during the warmer months.
We would also like to remind the public that there is a complete ban on the use of disposable or fixed barbeques and camp fires within the grounds of Cannock Chase, due to the adverse risk of accidental fires happening in the area.
Ben Sourbutts, Prevent Delivery Lead for Staffordshire Fire and Rescue Service, said: "Barbecues should never be used in the countryside and across popular beauty spots within the county. They can easily spread to surrounding shrubbery and can quickly escalate into a dangerous and uncontainable wildfire.
"They should never be left unattended and should not be used when the person in-charge is consuming alcohol.
"We know that people will be enjoying the outdoors when the weather is good, but we urge everyone to make sure they don't increase the chances of a fire. That means being aware of the risks.
"Please control your actions and remember fires doesn't discriminate, it burns whatever is in its path, whether that is grass, trees, cars, homes or businesses."
Barbecues are one of the best ways of enjoying good weather and socialising with friends and family. When it's sunny, the barbecues tend to always come out and we often see an increase in barbecue-related incidents.
If you are planning on using a barbecue generally, we advise on the following safety guidelines:
Don't leave a barbecue unattended and make sure your barbecue is well away from sheds, fences, trees, shrubs or garden waste
Only light a barbecue with appropriate fuels - don't use petrol or white spirit and remember to always keep water or sand nearby for emergencies
Make sure the barbecue is cool before attempting to move it
If you do use a disposable barbecue, only use it on an even surface, such as concrete, bricks or paving slabs
For more information on how to stay safe when handling barbecues, visit: BBQ safety (staffordshirefire.gov.uk)