Community lunch hosted by fire service and local college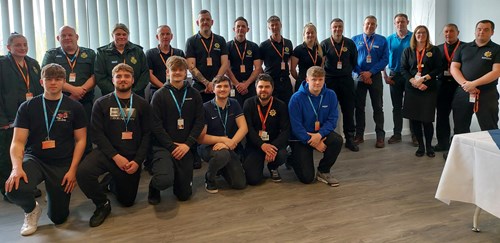 A team of firefighters and college students have once again come together to offer lunch to members of the local community.
Students from Newcastle and Stafford Colleges Group' Stafford Campus teamed up with Staffordshire Fire and Rescue Service staff and firefighters for the event 'The Mess Room @ Riverbank', which aimed to promote engagement with members of the local community.
As part of the session, aspiring young chefs from the college prepared a two-course meal, enhancing their skills in food planning, preparation and service, which was served to guests in the college's unique Riverbank Restaurant.
The restaurant hosted around 40 guests at the event which took place on Wednesday (26 April), including local residents, local charities, community groups and other emergency services. This was the third 'The Mess Room @ Riverbank' event held at the restaurant this year.
Caroline Firkins, Business Support Manager at Staffordshire Fire and Rescue Service, said: "As a Fire and Rescue Service, it is essential that we engage with and understand our communities and this has proven difficult in recent years due to the effects of the pandemic. Put simply, the community hasn't been able to come to the fire station so we thought we would take the fire station into the community."
Caroline added "We very much see this as a win-win-win arrangement. These fantastic young people get to perfect their skills, we get the opportunity to interact with our communities and local residents get a delicious lunch free of charge."
Assistant Director for Curriculum and Head of Progression Studies at Newcastle and Stafford Colleges Group (NSCG), Navarda Garside said: "We are so pleased to have been asked to get involved with the event alongside Staffordshire Fire and Rescue to continue to offer delicious lunches to residents across the Stafford area.
"NSCG Stafford College are proud to be part of the local community and we're fully aware of how challenging a time it is for many residents. On hearing about this amazing initiative, we jumped at the chance to offer freshly cooked hot meals, planned and prepared by our talented hospitality and catering learners in the Riverbank restaurant kitchens at Stafford College. This continues to be a brilliant opportunity for the students to work closely on such an important initiative."
If you would like to know more about The Mess Room @ Riverbank, please contact Caroline Firkins on 01785 898513 or email Caroline.Firkins@staffordshirefire.gov.uk.