Chief Fire Officer warns public of dangers amidst soaring temperatures
Chief Fire Officer (CFO) Rob Barber is urging the public to enjoy the summer sunshine responsibly as record-breaking temperatures are set to hit Staffordshire from this weekend.
The period, which could reach temperatures of 36 degrees Celsius, poses significant fire safety concerns which the public and the Service must address in order to mitigate the risks of widespread damage.
From the start of March to the end of May (2022), firefighters attended 592 secondary fires across Staffordshire involving BBQs, discarded cigarettes, camp fires and other causes.
Compared to the same period last year (2021), there has been a decrease by 17 incidents, although firefighters are still working to reduce these numbers year-on-year.
CFO Barber said: "Dry land and shrubbery are particularly prone to accelerating wildfires in the hotter temperatures, as many look to head outdoors and enjoy the sunshine.
"Recent incidents in the Moorlands have pulled significant resources from our organisation and have caused widespread issues with our communities.
"This increase in temperature may also see an increase in people swimming in open water – particularly in cold rivers and canals.
"This water is often much colder than people first anticipate and can cause muscle cramps and shock if people decide to swim them.
"Strong currents are often difficult to see before entering and can cause catastrophic issues when people attempt to get out, particularly if slippery banks surround the water.
"We want people to enjoy themselves and have a great time, but also to think about how they can protect one another and ensure they remain safe."
Prevent Delivery Lead Simon England and colleagues have been visiting popular beauty spots across the county, including Cannock Chase, Westport Lake and Gentleshaw Common, where they have reported an increased dryness across shrubbery and foliage.
This paired with the increased use of BBQs, cigarettes and naked flames has the possibility to cause significant wildfires which can rapidly become uncontainable in the scorching heat.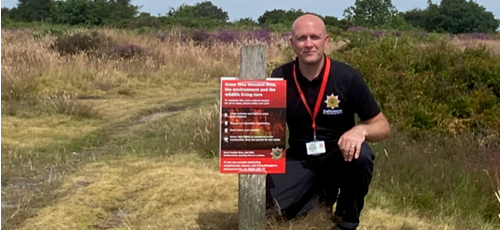 Whilst Cannock Chase remains a strictly NO BBQ zone, the public should always abide by the following guidelines when using a disposable BBQ:
Only use it on an even surface, such as concrete, bricks or paving slabs
Place it well away from the house, shed or fences
Ensure it has cooled before putting it in the bin. To avoid starting a fire you should allow it to cool for several hours and then consider pouring water over it to make sure it's completely out.
If you are in charge of a BBQ or controlled burn, do not consume alcohol
BBQs and discarded cigarettes can easily ignite dry shrubbery and escalate into dangerous and uncontainable wildfires. 
By mitigating these risk factors and protecting our beauty spots, we can enjoy the summer rays and avoid placing increased demand on our firefighters.
For specific information on how to reduce the risk of fires when using a BBQ, visit: https://www.staffordshirefire.gov.uk/your-safety/safety-outside/bbq-safety/
For more information on how to stay safe whilst outdoors, visit: Safety outside (staffordshirefire.gov.uk)
To read more on water safety, visit: Water safety (staffordshirefire.gov.uk)