Charity music gig to be held in memory of firefighter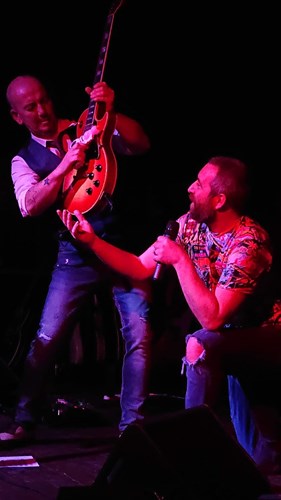 A charity music gig is to be held next month in memory of a firefighter and in support of a memorial garden.
Dhilly Fest will take place on Sunday (15 January) from 2pm to 10pm at the music venue Eleven located on the Newfield Industrial Estate, Sandyford, ST6 5PD, with proceeds going towards the Memorial Garden at Staffordshire Fire and Rescue Service headquarters in Stone.
The gig is being held in memory of Dave Hill, a Staffordshire firefighter and talented musician who sadly passed away on 2 January 2022. His band The Magnetic Jellyfish will be headlining the event with support from Fat Lip, Neverate & The Moon Dogs.
Matthew Wade, Crew Manager at Staffordshire Fire and Rescue Service, said: "This event is an opportunity to show your support for the dedication of local firefighters and appreciation for local musicians. We'd like to thank the venue and bands for their support."
Dave, who was part of Green Watch Longton, had been with Staffordshire Fire & Rescue Service for a total of 31 years.
His career saw him work throughout Staffordshire, including at Burton and Hanley. Dave received a permanent promotion to the role of Crew Manager in December 2021.
Chief Fire Officer Rob Barber said "Dave was a well-liked and dedicated professional firefighter who worked to make a difference to the communities he served."
Tickets for the gig cost £10. For more information, visit the Dhilly Fest website.