Business Safety Week in focus for fire service
Firefighters across the county are reminding business owners of their fire safety responsibilities as Business Safety Week starts.
From Monday 5 to Sunday 11 September, the service's fire protection teams and operational crews will be intensifying their efforts and visiting local businesses across Staffordshire to ensure they are aware of the risk factors involved in their premises.
These fires can cause significant dangers to the public and can also damage the livelihoods of the owners themselves who may risk losing their business, especially during the current economic climate.
Firefighters and fire protection teams are here to support local businesses to ensure this doesn't happen to them.
Ian Read, Head of Prevent, Protect and Partnerships, said: "Firefighters are here to help businesses 365-days-a-year, and this week will be no different.
"In most cases, defective electrics and poorly maintained solutions, such as loose wires, or faulty equipment are the most common causes of fires in the workplace, meaning they should be regularly inspected and replaced if there are any signs of damage.
Workplaces are also reminded of their responsibilities under the 2005 Regulatory Reform (Fire Safety) Order, which places a duty upon them to ensure the risks associated with fire are fully assessed, and that those risks are sufficiently mitigated with control measures.
It is vital that a fire risk assessment has been carried out in order to meet the legislative requirements, which consider all aspects of fire safety within the workplace.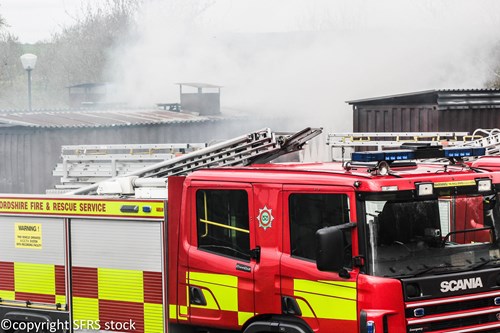 Ian added: "Waste and clutter should be cleared frequently also, as combustible materials like paper, cardboard and wood can easily accumulate and provide fuel for fires to spread.
"Businesses should also regularly inspect fire doors and ensure escape routes are accessible to everyone in the premises."
"By following best practices and regularly inspecting the potential hazards in the workplace, businesses can mitigate the risks of falling victim to these fires and reduce the risk to our firefighters."
The service also has a dedicated business support team, who help an array of different businesses, including schools, care homes, factories and farms.
This bespoke team offer specialist guidance and nationally-recognised training packs, where instructors give cost-effective training in person at the location of the premises.
Business Support Lead, John Berrisford, said: "Providing and maintaining a safe working environment for staff is paramount for any business.
"One of the most important ways of achieving this is to ensure you carry out a suitable fire risk assessment, which covers the procedure needed to keep people and assets safe.
"This includes identification of hazards, evaluating, removing or reducing any risk factors identified, preparing an emergency plan and providing adequate training to members of staff.
"We are keen to support local businesses and ensure employees and residents in our communities are protected from the risks of fire." 
If you are a business owner and would like to speak to our dedicated support team, email John.Berrisford@staffordshirefire.gov.uk or call 01785 898916.
For more information on how to mitigate the risks of fire in your workplace, visit:  Business safety (staffordshirefire.gov.uk)