Battery charger ignites outbuilding after overheating
We are urging residents across Staffordshire to make sure they stay safe following a fire caused by a battery pack recently.
In the early hours of Monday (9 October), we received reports of smoke and flames coming from an outbuilding on Rothsay Avenue in Sneyd Green, Stoke-on-Trent.
Firefighters from Hanley and Burslem were sent to the scene and began work to extinguish the blaze using hose reel jets and breathing apparatus. Crews isolated the electricity supply to the building and managed to extinguish the fire by 2.45am.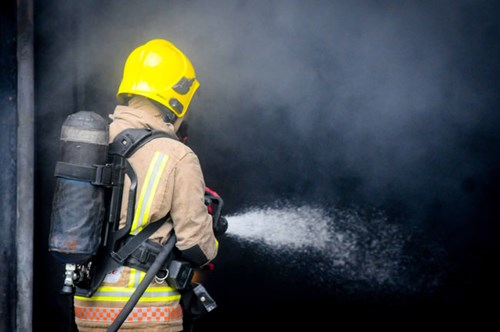 After checking that no one was injured, we carried out an investigation into the cause and later deemed the fire to be accidental. A power tool battery charger, which had been left on overnight, overheated and set alight.
Watch Manager Alex Fowler, who went to the scene, said: "Crews worked quickly to stop the spread of the flames and contain the fire within the area.
"This just shows how easily some electronics can overheat and escalate into potentially large-scale fires within a short space of time.
"It's one of the many reasons why it's so vital that people don't leave their electronics unattended whilst they are switched on. Faulty and overloaded electrics cause an average of 7,000 house fires every year, but there are a number of steps you can take to minimise the chances of falling victim to them."
Always use official chargers and don't be tempted by cheap counterfeit replicas instead
If you have electronic devices stored in outbuildings, consider getting a smoke alarm fitted and never leave them switched on whilst unattended
Ensure that you replace all damaged cables and chargers as soon as possible
Make sure all appliances have a British or European safety mark when you buy them
Don't overload your sockets - keep one appliance to one plug where possible and use the socket overload calculator to reduce the risk of fire
Unplug appliances when you are going to bed or not using them
For more tips and advice on how you can make sure you stay safe, visit: https://www.staffordshirefire.gov.uk/your-safety/safety-at-home/electrical-safety/